Business & Community Leaders United at a Summit in Arizona to Advocate Global Civility
The third annual Productive Business Summit was held in Phoenix, Arizona on June 8, 2019. In addition to workshops re: how to be more productive and awards to small businesses that are productive, the audience celebrated Phoenix Civility Day with a proclamation issued by new Phoenix Mayor Kate Gallego. Phoenix is the latest municipality to take part in an international campaign by iChange Nations to encourage more civil behavior in society.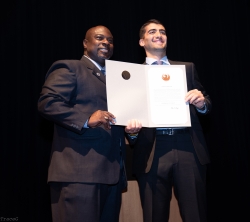 Phoenix, AZ, June 15, 2019 --(
PR.com
)-- An international group of entrepreneurs gathered at the Salvation Army Ray & Joan Kroc Center, Phoenix Arizona, to attend the
Productive Business Summit
on June 8, 2019. The summit was organized by Dr. Vernet A. Joseph, a World Civility Ambassador, National Statesmen, productivity speaker, best-selling author and the Founder/CEO of Live To Produce Enterprises, LLC. The day-long summit involved workshops about business/investment strategies; and awards were given to a wide variety of community leaders and influencers. The Mayor of the City of Phoenix, Kate Gallego, issued a proclamation deeming June 8th as Phoenix Day of Civility, which was presented by the Mayor's Director of Community Relations.
At the Summit, the speakers ranged from the My Financial Home CEO from California - Dr. Cozette M. White - who stressed the five biggest mistakes business owners make, and Arizona Financial Planner Ashley Folkes, who provided practical tips about being mentally, physically and financial fit, to World's Best Connectors' founder Denise Meridith, Crown Life Enterprises Founder Marquez Hughley, whose talk focused on increased levels of productivity, Mindset Changer CEO Jamal Cummins, whose message was "Don't quit!" and PITCH Investors Live representatives who introduced a new innovative way for business owners and entrepreneurs to gain exposure and obtain funding.
The Productive Business Summit & Golden Rule Global awards is a collaboration with Dr. Clyde Rivers, the Honorary UN Ambassador at Large of the Republic of Burundi. Rivers has earned innumerable awards, including, in 2017, the United States Presidential Life Achievement Award for over 4,000 hours of serving the nation and humanity. He is also the Founder and President of iChange Nations (ICN), which improves the quality of life throughout the world by emphasizing honor, trust, dignity, and civil discourse. Cities and states are encouraged to join the cause. For example, communities throughout Indiana celebrated their fourth Annual World Civility Day in April, 2019.
In an era where long-held international alliances and treaties are being threatened, this event focused on the value of civility and relationships and ways of executing its power. iChange Nations seeks to bring back "the art of honor." Its newest attendees and honorees will continue to practice, advocate and embrace the golden rule throughout the world. As Dr. Joseph has said, "Civility costs us nothing, but buys us everything; it is imperative that we are the living examples of the change we seek to see in this world."
Contact
Denise Meridith Consultants Inc.
Denise Meridith
602-763-9900
http://www.worldsbestconnector.com

Contact