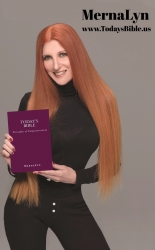 New York, NY, June 19, 2019 --(
PR.com
)-- The renowned New York bookstore and location of the CBS Evening News feature; Shakespeare & Co, is hosting the international book launch of "Today's Bible."
"Today's Bible" reveals how to "Live with H.E.A.R.T." - an acronym for the five aspects every human being shares; irrespective of the color of their skin, the amount of money they make, their political leanings or the gender with which they associate.
MernaLyn's first book, "The 10 Second Diet" is so self-empowering it worked with First Lady Michelle Obama's initiatives during the Obama administration.
MernaLyn's writing celebrates diversity and the beauty of the human spirit in an uplifting and inspiring format.
After being a lead Shakespearean actress at The Globe Theatre, a professional international model with a recurring role on an ABC network prime time television show...MernaLyn became an award-winning author.
MernaLyn will be featured at Shakespeare & Co.'s 2020 Broadway location on Friday, June 28th from 5:00 - 6:00 PM.
As an Alzheimer Association Ambassador, MernaLyn donates a generous percentage of every book sold at her book signings directly to Alzheimer research.