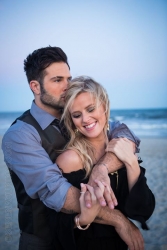 Los Angeles, CA, June 27, 2019 --(
PR.com
)-- Safier Entertainment has sold the worldwide rights to Andrew Damon Henriques and Judy San Roman's Romantic Comedy "Rich Boy, Rich Girl," a deal negotiated by CEO Jared Safier ahead of Cannes. The film hit theaters stateside and a host of VOD platforms May 31st, 2019.
The film stars Cody Longo, (CMT'S Nashville and Netflix's Wildflower) and Sasha Jackson, (The Royals and Netflix's Jarhead 3) The story follows two Y generation dreamers, Andy and Hayley, looking to find themselves when they coincidentally find each other. Soon, innocent lies and cover-ups become the gateway to discovering who they really are.
The film follows Andy (Cody Longo) as he works with Blake (played by C. Thomas Howell of LBJ, Animal Kingdom, and AMC'S The Terror) to strip away his fear of revealing his true self to Haley. Howell said of his role in the film.
"Cody and I had a real chemistry that translates on film. It's light and fun yet poignant. The same energy the movie holds." The film also stars Abigail Hawk (Blue Bloods, A Christmas in Vermont) and Kristin Bauer Van Straten (Nocturnal Animals, True Blood). Abigail shares, "working with Sasha Jackson was hilarious. She's like a prize purebred puppy: loving, generous, silly and a ball of energy."
Co-directed by Andrew Damon Henriques and Judy San Roman, the film was shot in just 24 days. It was San Roman's first collaboration with Henriques. San Roman has already helmed three films through her production company, Reelhouse Productions. Henriques reveals the story was what really sold him on joining San Roman. San Roman reveals as a producer and director, "Romantic comedies are making quite the comeback and the goal is for the audiences from any generation to walk into a theater or VOD, meet our characters and fall in love."
You can watch the trailer below:
www.youtube.com/watch
Contact:
Safier Entertainment
For more information, please visit SafierEnt.com and www.facebook.com/SafierEnt.
For more information, visit www.richboyrichgirlmovie.com, and follow the film's page on Facebook.
www.reelhouseproductionsnyc.com