Dallas Autism Conference with Dr. Temple Grandin - September 19, 2019
Future Horizons will be hosting the Dallas/Fort Worth Autism Conference with Dr. Temple Grandin - September 19, 2019.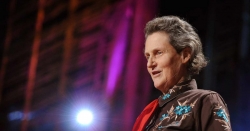 Dallas, TX, July 24, 2019 --(
PR.com
)-- Join Dr. Temple Grandin and two great speakers for this special event in Dallas, TX on September 19, 2019. This conference will include special appearances by Sean Barron, an author and journalist, and Britt Collins, a pediatric occupational therapist.
Dr. Temple Grandin has served as an inspiration and a role model to hundreds of thousands of families and persons with autism. In this unique presentation, Temple eloquently and candidly describes the challenges she has faced and offers no-nonsense ideas on how others dealing with autism can reach their full potential.
Sean Barron tells the story of how he went from being a child with low-functioning autism to the successful man, journalist and boyfriend he is today. Over time, he learned many social "unwritten rules" that have helped him become more connected with society, resulting in renewed personal relationships. A graduate of Youngstown State University, Sean is currently working as a reporter for the Youngstown Vindicator.
Britt Collins, MS, OTR/L has worked in a variety of settings including pediatric hospital inpatient, ICU, rehabilitation, outpatient clinics, homes, schools and skilled nursing facilities. She is a four time published author with her books; she presents nationwide alongside experts Temple Grandin, Paula Aquilla, Diane Bahr and Carol Kranowitz.
About the Venue:
Irving Convention Center at Las Colinas
Junior Ballroom, Third Floor
500 West Las Colinas Blvd.
Irving, TX 75039
Contact
Future Horizons, Inc.
Rachael Rice
817.277.0727
https://www.fhautism.com/

Contact