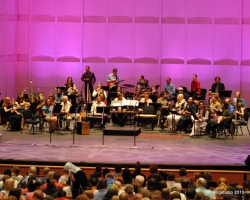 Phoenix, AZ, July 25, 2019 --(
PR.com
)-- In the wake of rising racial tensions, The Pangean Orchestra (TPO, www.thepangeanorchestra.com) has hastened their efforts to promote tolerance among all people. Based in the idea of Pangea; the scientific name given to our eons old supercontinent, TPO promotes the music of one people. The idea that we are all from the same place and all have some fundamental commonalities that surpass superficial difference is the basis of the orchestra's foundation.
"We believe that when people hear and see our performance, the result is 'Shock and Awe,'" says World Maestro and founder Colin O'Donohoe. "We seek to amaze our audience with ancient songs and modern ones played in ways no one has yet imagined."
The results have been just as incredible as once hoped. The ancient Babylonian Qanun can now be seen along the newest of instruments including the Turntable which only came into prominence from musicians in The Bronx in the 1960s.
The music continues to bring people of different races, regions, gender, and genre together.
The Campaign may be viewed at: https://igg.me/at/pangeanorchestra