Sustainable Ocean Alliance Ocean Advocates and Entrepreneurs Set Sail to Witness an Iceless Alaska
Sustainable Ocean Alliance brings forward solutions that will address the ocean's biggest challenges.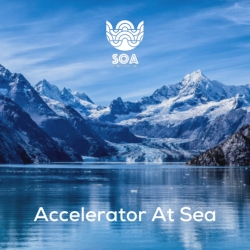 San Francisco, CA, August 21, 2019 --(
PR.com
)--
Sustainable Ocean Alliance
(SOA), a global non-profit organization that advances the impact of young ocean leaders and accelerates ocean sustainability solutions, announced today its Ocean Solutions Accelerator program will commence by setting sail to Alaska, the most rapidly changing state in the U.S., to examine the irreversible damage climate change has had on the Arctic environment. Together, this group of ocean experts, explorers, media, young leaders, investors and entrepreneurs, will mobilize to witness and evaluate an iceless Alaska for the first time in its history.
After an Arctic summer with well-above average temperatures, warmer seas, and a historic July heatwave, sea ice has vanished in Alaskan waters. While this has happened before, notably during the 2017 melting season, Alaska has never seen ice melt this early in the year.
"Temperatures are rising in the planet's polar regions, specifically in Alaska, causing the vast majority of the world's glaciers to melt faster than new snow and ice can replenish them," says Daniela V. Fernandez, founder and CEO of Sustainable Ocean Alliance. "This crisis must alarm the world as the challenges that were promised to future generations, are taking place today."
The Accelerator at Sea will set sail from Juneau, Alaska, in partnership with Lindblad Expeditions, aboard the National Geographic Sea Bird on August 28 and will disembark in Sitka, Alaska on September 2, 2019. Each day at sea will be filled with adventure and exploration that seamlessly integrates into a cutting-edge curriculum, aimed at fostering an entrepreneurial spirit and accelerating the impact that innovative solutions will have on the life force that is the ocean.
"By creating the opportunity for these entrepreneurs to participate in this impact-driven voyage, we are convinced that the learning and inspiration will advance the goal of accelerating innovation for ocean health," says Sven Lindblad, CEO, Lindblad Expeditions.
The expedition will feature speeches and interactive sessions with retired US Navy Captain Don Walsh, Chasing Coral director Jeff Orlowski and members of the Alaska Whale Foundation. Additionally, among the participants are mentors, ocean entrepreneurs, members of the media and sponsors including ValueAct and Ocean Elders, BNP Paribas and Wilson Sonsini Goodrich and Rosati — each of whom will bring tremendous value to this once in a lifetime experience.
"The Accelerator at Sea provides a wonderful space for the next generation of ocean leaders to scale their solutions, build meaningful connections, influence powerful environmental changes and create a long-lasting impact towards the fight to end climate change," says Jeff Ubben, CEO, ValueAct Capital.
For more information, please visit
www.soalliance.org
.
About Sustainable Ocean Alliance
Sustainable Ocean Alliance (SOA) is a global non-profit organization that advances the impact of startups, social enterprises and initiatives that are developing solutions to protect and sustain our ocean. SOA's pipeline of ocean leaders is cultivated through a hub-based model, led by students at the collegiate and young professional levels.
Sustainable Ocean Alliance (SOA) was founded in 2014 as a college-room idea. With phenomenal speed, SOA has created the world's largest network of young ocean leaders – through establishing a presence in over 165 countries, launching the first-ever Ocean Solutions Accelerator in 2018 to support ocean tech startups, and partnering with corporations and governments to develop technological solutions that can address the greatest threats facing our planet.
Contact
Sustainable Ocean Alliance
Haley Steinhauser
562-991-3170
soalliance.org

Contact