Network Television Host's Mocking Response to Young Prince George of Wales's Interest in Ballet, Evokes Local Response About Bullying in the Dance Arts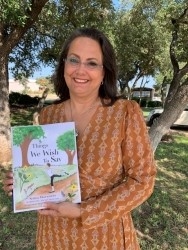 Austin, TX, August 27, 2019 --(
PR.com
)-- Late last week, ABC Good Morning America television host Lara Spencer chastised the announcement that 6 year old Prince George of England was taking ballet lessons. Spencer's sarcasm and comedic pause cajoled the audience into a collective snicker and further demeaning laughter with her co-host. This situation touched very close to home for Anna Bauereis, a local children's author and anti-bullying advocate.
Bauereis is publishing a new children's picture book, "Things We Wish to Say," about overcoming bullying, in honor of her late son, Alexei Bauereis, who was bullied throughout his life for being a ballet dancer. The book is set for publication at the end of October. According to Bauereis, "'Things We Wish to Say' is coming at a vital time in educating and protecting boys' rights and their interest in this art form." She adds, "My son was teased, bullied and laughed at regularly in an eerily similar context to the incident on the Good Morning America show."
In response to public outcry over Spencer's comments and behavior, the television host issued a sincere and swift apology. Additionally, this morning's Good Morning America show included interviews with high profile male ballet dancers. Yet, as Bauereis reflects, "The larger picture is that Spencer's actions are unfortunately similar to many people's reactions when it comes to male dancers, the difference is that this happened during a national network television show."
Bauereis continued, "My hope is that this situation unfolding on a national stage will help illustrate the challenge young boys face when pursuing their passion for dance. The real opportunity here is for this to be a catalyst to encourage better understanding, awareness and education about boys' rights in ballet. She believes all kids have a right to find their love and to aspire to great things, as her late son had done."
About Alexei Bauereis
Alexei Bauereis was born in August 2001 and died tragically in a pedestrian traffic accident in June 2016. At a young age he grew fascinated with ballet and became a talented and accomplished dancer with the Austin Ballet. He is being featured in an upcoming dance movie, Danseur, set to release at the end of October. Alexei inspired many others with his courage while facing bullying and keeping his focus on achieving personal goals in spite of societal ridicule. Alexei wrote a poem about his journey as part of a homework assignment that was precluded from being turned in by his sudden death. His mother, Anna Bauereis found the poem, which is the storyline for the children's picture book, "Things We Wish to Say."
About Anna Bauereis
Anna Bauereis is a life coach, author, speaker and anti-bullying advocate. She is determined to help families have open and honest dialogues to foster healthy support for their loved ones and those around them. Her upcoming book based on her son's poem, Things We Wish to Say is a beautiful message to encourage young boys especially, but all children, to accept themselves as they are and believe in their dreams. The book launch will be in tandem with a special screening of the movie Danseur at Ballet Austin Theatre on October 26th. Contact Bauereis for more details Anna@Bauereis.org.
Media Contact
Anna Bauereis
Email
anna@bauereis.org
Phone 512-784-5056
Contact
Anna Bauereis
512-784-5056

Contact