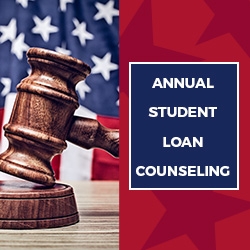 San Diego, CA, September 16, 2019 --(
PR.com
)-- iGrad's video-based annual student loan counseling courses are being used at three universities that are part of the U.S. Department of Education Experimental Sites Initiative (ESI), which is studying effective ways to counsel students about their student loans.
The ESI selected 51 colleges and universities to study the impact of student loan counseling that goes beyond the current required entrance and exit counseling. Arizona State University, New York University and Monroe College are part of the ESI and have incorporated iGrad's annual student loan counseling courses into their plan to test the effectiveness of statutory and regulatory flexibility.
The ESI focuses on borrowers who have already completed the previously required counseling. Taking a subset of borrowers from each institution, the department divides them into two groups: one that receives more-than-required loan counseling and one that only needs to meet the currently required counseling.
iGrad is a leading provider of interactive and adaptive online financial wellness platforms for universities, companies and financial institutions. Its financial wellness education platform for college students, also called
iGrad™
, is used at more than 600 colleges and universities nationwide.
New York City-based Monroe College had more than 2,500 students participate in iGrad's student loan counseling courses during the 2018-2019 academic year.
Clemente P. La Pietra, executive director of Monroe College's Office of Loan Management, said that students are empowered by having more in-depth knowledge about their student loans.
"Much to our surprise, students have not complained about this added process in finalizing their student loans," La Pietra said. "We hope that this will translate to higher repayment rates and lower default rates when these students enter repayment in the coming years."
In 2018, student loan debt neared $1.5 trillion, with about 9 percent of student loan debt which was 90 days or more delinquent, but the New York Federal Reserve Bank said those numbers are higher in reality because many other loans are given grace periods or are in deferment. In 2016, the average student loan debt per college graduate was $28,650.
Lowering student loan defaults is of major concern to universities and government. New legislation that would expand required loan counseling passed the U.S. House of Representatives in September 2018 with strong bipartisan support. Called the Empowering Students Through Enhanced Financial Counseling Act, the legislation has not yet been scheduled for a Senate vote.
"High student loan debt is a major obstacle to people achieving financial wellness--it's essential that students and parents fully understand what impact this borrowing can have on their entire lives," said iGrad founder and President Rob LaBreche. "Not only does it impact their own lives, this cumulative debt affects the entire economy. High student loan debt prevents people from buying homes, starting businesses and saving for retirement, among many other things."
iGrad's student loan counseling courses feature interactive videos on topics including:
- Comprehensive information about the terms and conditions of Federal student loans.
- A reminder that students will be required to repay their loans even if they do not complete the academic program
- Information that indicates that completing an academic program will increase the students' ability to successfully repay their loans
- Comprehensive information about Direct Loan repayment options and forgiveness benefits
- A reminder with information about free assistance with Federal student loans including:
-- Loan consolidation
-- Rehabilitation
-- Income-driven repayment plans
About iGrad
iGrad is a San Diego-based private company that offers financial wellness solutions to colleges and universities, employers and financial institutions. Its platform for higher education, also called iGrad, has been named Education Program of the Year three times by The Institute for Financial Literacy, is a three-time winner of the Best Product Award from University Business Magazine and has won the Outstanding Consumer Information Award from the Association for Financial Counseling and Planning Education. The company's Enrich financial wellness platform is used by more than 300 employers and financial institutions nationwide to provide comprehensive financial wellness education and action plans to employees and customers. For more information about the iGrad platform, visit http://schools.igrad.com. For more information about the Enrich platform for employers and financial institutions, visit https://www.enrich.org/.