LA Students Welcome Zuriel Oduwole - Teen Film Maker & DUSUSU Founder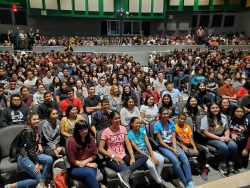 Los Angeles, CA, September 23, 2019 --(
PR.com
)-- Like clockwork, the UN General Assembly has sat in New York every September and it is now in its 74th season of global deliberations. One young voice who has spoken, met many word leaders, or delivered thematic messages for five of the last six years has been Los Angeles teenage film maker and girl education advocate - Zuriel Oduwole.
This year instead, she is staying closer to home, speaking this morning to over 450 high school students at Eisenhower High School, in a low income part of the Los Angeles area. With her three younger siblings in tow, the film maker and DUSUSU [Dream Up, Speak Up, Stand Up] co-founder, was welcomed to the school, where two of her latest short films were screened in the schools brand new auditorium, complete with a ticketing booth and scores of giggling and excited students.
"I have spent more than 90% of my project time overseas because of the greater needs there, and I thought this time, to spend a little bit more time at home," she explained when asked about the rationale for her school choice.
"It is easy to forget there are still areas of poverty, even here in the US, though we have the worlds biggest economy and the world's most powerful military. Needs are needs, and education needs are greatest in poorer parts of the country," she said.
"I cant believe she actually came to our school!" 10th grader Skittles exclaimed. "We read about her in school last spring for our civic studies and she's actually here today. That's beyond cool!"
Some of the students shared their dreams, as Zuriel shared hers also. She talked about the power of a great education, and the "positive enabler" a college education can be. The teenager has now spoken to over 27,130 youths in more than 17 countries on three continents, including the United Kingdom, Ghana, Mexico, Tanzania, South Africa, Jamaica, Kenya, Nigeria, Ethiopia and the United States, as part of her Dream Up Speak Up Stand Up [DUSUSU] project. Along the way, she has also sat down with 30 world leaders [Presidents and Prime Ministers] to try and find simpler ways to solve some critical global social issues, especially education.
The DUSUSU initiative co-founded by Zuriel and her siblings, inspires in school students to dream bigger as she has, and for out of school students to get back into school, where education can be a facilitator of their dreams.
Her last US school visited to speak at, was the worlds famous Ron Clark Academy in Atlanta, Georgia in March 2018. The last major speaker at that school before her, was Ms. Oprah Winfrey.
Earlier in May this year, the US Embassy in Kingston, Jamaica invited her to speak to 200 female students at the Mona school in downtown Kingston.
Contact
DUSUSU
Anike Badu
310-445-8840
dususu.com

Contact