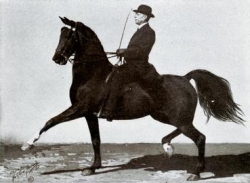 Green Creek Township, NC, September 27, 2019 --(
PR.com
)-- An educational seminar honoring the memory of the internationally renowned saddle horse trainer
Tom Bass
(1859 - 1934), will be held on Saturday, October 19 - as part of the 2nd Annual Day of the African Equestrian (DOTAE 2019).
The 2019 Tom Bass Seminar will be held from 10:00 a.m. to 2:00 p.m. (Eastern Time) on the Sky Deck at the Tryon International Equestrian Center (TIEC) in Mill Spring, North Carolina (USA). The venue overlooks the George H. Morris International Arena. Discussions will focus upon Diversity in Equestrian Sport.
A legendary American Saddlebred trainer, Mr. Bass was born enslaved in Columbia, Missouri. He played a prominent role, both in the establishment of the American Royal Horse Show in Kansas City, and in the promotion of Mexico, Missouri as the "Saddle Horse Capital of the World." Highlights of his extraordinary career include championships at two world's fairs and more than 2,000 blue ribbons. The Tom Bass bit, developed to give the rider control without causing pain to the horse, is still in use today. During his lifetime, Bass performed before luminaries such as Queen Marie of Romania, William Jennings Bryan, P.T. Barnum and U.S. Presidents Grover Cleveland, William McKinley, Theodore Roosevelt, William Howard Taft and Calvin Coolidge. His more prominent clients included Mr. Roosevelt, Buffalo Bill Cody, Anheuser-Busch executives Adolphus and August Busch and Will Rogers.
Admission to the Tom Bass Seminar is free to the public.
Confirmed panelists include: Julian Hyde, representing the Equestrian Federation of Jamaica; Stanford Moore, Publisher of Black Reins Magazine; Julian Seaman, Media Director of the Badminton Horse Trials (UK) and Hillary Tucker, Equine Services Specialist & Territory Sales Manager at McCauley Brothers - an Alltech company. Additional panelists will be announced in the run-up to the event. The seminar will be moderated by Melvin H. Cox, Managing Director of SportsQuest International, LLC and a Lecturer at the University of California, Santa Cruz.
Topics to be explored by panelists include:
- Demystifying horse sport - not for rich kids only
- Developing broad-based community support for equestrian activities at all levels
- Leveraging (new and traditional) media in horse focused education and promotion
- Making horses "cool" again in low wealth and middle income communities
- Identifying and promoting heirs to the legendary equines of yesteryear: (Roy Rogers') "Trigger," (The Lone Ranger's) "Silver," (Zorro's) "Tornado," (My Friend) "Flicka," "The Black Stallion," "Mister Ed," (Gene Autry's) "Champion the Wonder Horse," etc.
- Incorporating the rich equestrian heritages of non-white, non-European communities (including African, African-American, Asian, Hispanic, Native-American, Romani, South Asian and others) into our shared equestrian narrative
The DOTAE 2019 reception will be held on Saturday, October 19 from 7:00 to 11:00 p.m., at
Harambee Farm
in the Green Creek Township (Polk County, NC).
Entertainment at the DOTAE 2019 gala will be provided by Asheville, NC-based Katrina "Kat" Williams - an America's Got Talent finalist.
DOTAE 2019 will benefit educational programs administered by The AFRICAN CONNECTIONS Research and Education Fund, Inc. - including a two week International Summer Leadership Institute (ISLI), bringing together undergraduates from East Africa and the USA.
The first ISLI is scheduled to take place in the Summer of 2020, in Polk County, North Carolina (NC).
First presented in 2018 as a tribute to Africa-based athletes competing in the FEI World Equestrian Games and to pioneering African-American horsemen (active pre-1975), DOTAE 2019 will be staged as an adjunct to the CSI 5* (International Jumping Competition) being held October 16 – 20 at the Tryon International Equestrian Center. The TIEC tournament will include qualifying classes for the 2020 Olympic Games in Tokyo, (Japan).
Hosted by The AFRICAN CONNECTIONS Research and Education Fund, Inc. (ACREF), a 501(c)(3) not-for profit organization, in association with SportsQuest International, LLC, the celebration will honor equestrians of African ancestry active in national and international level pursuits since 1975. Prominent riders, trainers, huntsmen and handlers include (but are certainly not limited to): Marvin Brangman (Bermuda); Philesha Chandler (USA); Donna Marie Cheek (USA); Rogerio Clementino (Brazil); the late Sultan Darr (né Kevin Edwards - Bermuda and Brazil); Jefferson "Tot" Goodwin, MFH (USA); Thoroughbred Owner/Trainer Gaston Grant (USA); Tammy Greaves (United Kingdom); Bruce Griffin (USA); Julian Hyde (Jamaica); Paige Johnson (USA); Bassem Hassan Mohammed (Qatar); Nayel Nassar (Egypt); Abdelkebir Ouaddar (Morocco); Shayna Simon (USA); Mavis Spencer (USA) and Shepherd Zira (South Africa).
Guests at the evening soirée will feast upon a variety of treats inspired by the cuisines of North Africa and the Americas – expertly prepared by chefs from the renowned Hare and Hound Pub of Landrum, SC.
Tickets for the 2nd Annual Day of the African Equestrian gala are available on-line through
Brown Paper Tickets.com
.
Sponsorship information is available on-line at:
http://www.sportsquestinternational.com/DOTAE/index.html#sponsorship
The AFRICAN CONNECTIONS Research and Education Fund, Inc. (www.africanconnections.com) was created in direct response to the numerous distortions, half-truths and omissions seen almost daily in the popular media regarding Africa, her people and the African Diaspora.
The principal mission of the organization is to illuminate, to educate and to provide a balanced viewpoint that celebrates genuine achievement and service to humanity.
SportsQuest International, LLC (www.SportsQuestInternational.com) is a privately held multimedia production company specializing in the development and promotion of sports related programming that presents positive, informationally rich themes. The company is widely known for its coverage of national and international level equestrian events.
Photo: Tom Bass (1859 – 1935), riding the famous mare Belle Beach
Source: Wikipedia
Licensing: Fair Use