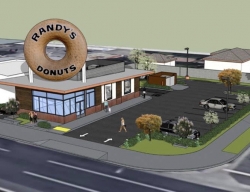 Los Angeles, CA, October 18, 2019 --(
PR.com
)-- Known for doing things big, Randy's Donuts, the world's most recognized donut shop, announced it will be offering guests a free donut and cup of coffee to celebrate the launch of their new store opening in Downey. Every guest that stops by the new Downey location on Wednesday, October 23 from 5am to Noon will get a free glazed donut and a free 12 oz. cup of their new premium Randy's Roast brewed hot coffee.
"We're very excited to open this location and become a landmark in the city of Downey," says Mark Kelegian, CEO and owner of Randy's Donuts. "Built from the ground up, this new location has an iconic 26' Instagrammable donut on the roof, a state-of-the-art drive thru, our signature Pop culture wall, the new coffee line-up and some indoor and outdoor seating."
The grand opening celebration continues through November 27 with some great promotions:
-Daily 99¢ Premium Randy's Roast brewed coffee
-Free Premium Randy's Roast brewed coffee or Specialty Coffee drink with purchase of any donut* Monday through Friday 5am to 5pm
-Weekday special for Downey High School students where they receive 25% off any purchase from 3pm to 5pm
Unlike other donut or dessert stores that make a few hundred a day of only a handful of varieties, Randy's Donuts team of bakers produces over 40 different varieties daily that appeal to everyone from kids, parents, business travelers, and those with the most discriminating tastes. Randy's Donuts has been making every donut by hand for over 50 years. They pride themselves on using only the finest baking ingredients available in the world. The best ingredients coupled with expert bakers and Randy's Donuts secret mixes, produces a donut that is fluffier, airier, larger, and stays fresh longer.
"We never skimp on icing, glaze, sprinkles, or other decorations," says Mark Kelegian, CEO and owner of Randy's Donuts. "We go over the top to put as much chocolate, maple, cream filling, or other toppings as the donuts can possibly hold."
Randy's Donuts is also a great value for families and businesses with glazed donuts, twists, chocolate raised, cinnamon rolls, apple fritters, or any of our 40 other donuts at prices at or below the competition.
Randy's Donuts currently has five locations in the greater Los Angeles area – Inglewood, Century City Mall, El Segundo, Hollywood, and Downey. Several more corporate locations are planned for 2019 & 2020. Earlier this year, the company announced plans to franchise the concept domestically and internationally. The brand, opened in S. Korea in September, is opening in Saudi Arabia this month and has signed deals to bring its word-famous donuts to the Philippines and other locations in the United States. Randy's Donuts signature 32-foot novelty architecture donut sits atop the original Inglewood shop and is a top tourist stop, attracting thousands of customers to pose for photos.
Randy's Donuts Downey will be opening on October 23 and is located at 8721 Firestone Blvd Downey, CA 90241. The location will be 24 Hours. For more information, please visit www.randysdonuts.com
For nearly 60 years, Randy's Donuts has been a taste, pop-culture and architectural icon: Its donuts are handmade daily with proprietary, highest-quality and never-frozen ingredients and mixes. The business has been featured in countless movies, television shows and music videos such as Jimmy Kimmel Live! with Christina Aguilera, Iron Man 2, Futurama, The Tonight Show with Jimmy Fallon and the MTV Movie Awards.
Randy's Donuts varieties include the classics – glazed, devil's food, and chocolate raised, deluxe – crullers, buttermilk and old fashioned, fancy – apple fritter, jelly filled and cinnamon roll, as well as premium – Nutella™, red velvet ganache and s'mores. Randy's Donuts also offers delivery, catering and a full-service coffee program in addition to other beverages.
For more information about Randy's Donuts and its franchise opportunity, visit randysdonuts.com/franchise.
About Randy's Donuts
Based in Inglewood and with five California locations, Randy's Donuts is the most recognized donut shop in the world and one of the most iconic locations in Los Angeles, attracting visitors from around the world to take pictures of the giant rooftop donut. Immediately recognized as the landmark building from appearances in movies, music videos and television shows, Randy's has consistently been named one of the top donut shops in the country for nearly 60 years and the most-reviewed and highest-rated donut shop on Yelp and similar sites. Whether it's a first visit or a local, one taste of Randy's donuts made by hand every morning brings customers back time and time again. Connect with Randy's Donuts on Facebook, Twitter and Instagram @randysdonutsla, LinkedIn and on Tik Tok @RandysDonuts. Learn more at randysdonuts.com.
*Randy's Rounds excluded