GBDC Entrepreneurship Institute, Jamaica Energy Partners and UWI Mona Guild of Students Presents the Inaugural Youth Entrepreneurship Summit in Kingston, Jamaica
GBDC Entrepreneurship Institute will join forces with Jamaica Energy Partners and UWI Mona Guild of Students to present the Inaugural Youth Entrepreneurship Summit on Saturday, November 23, 2019 at JEP headquarters, located at Marcus Garvey Drive, Kingston, Jamaica WI. The Summit is aimed at fostering the entrepreneurial spirit in young adults, encourage global citizenship and provide tools that enable young adults to make real global impact from their front door.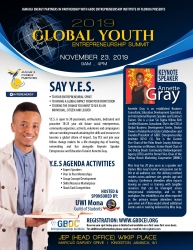 Kingston, Jamaica, October 21, 2019 --(
PR.com
)-- Y.E.S. is open to 30 passionate, enthusiastic, dedicated and proactive 18-23 year old future social entrepreneurs, community organizers, activists, volunteers and campaigners who are working towards attaining the skills and resources to become a global citizen of impact. Young entrepreneurship enthusiast and future change makers will participate in a life-changing day of learning, networking and fun alongside Keynote Speaker Entrepreneur and Education Futurist Annette Gray.
Annette Gray is a Jamaican by birth but despite leaving Jamaica at the age of 12, she still considers herself a Jamaican country girl. "I attribute a significate amount of my success to my Jamaican roots, the foundation established by my grandmother who is often references for her wisdom in my keynotes and trainings," said Gray. Miss Gray is involved in a variety of entrepreneurial ventures and the she is founder of the GBDC Entrepreneurship Institute.
The institute is a Business and Leadership Incubator that builds capacity for entrepreneurs, small businesses and public and private sector business looking to develop an entrepreneurial culture. For more than ten years, GBDCEI has provided unique program solutions to build successful futures. GBDCEI has engaged children ages 9-14 through its Kid-Preneur Leadership Academy; mentored budding entrepreneurs ages 16-21 by providing an opportunity to thrive in the Cultural Youth Entrepreneurship Internship Program; provided an On-the-Job Training Program; and assisted with capacity building for small businesses which resulted in the development numerous brick and motor locations.
The recent launch of the Mobile Entrepreneurship and Leadership Training Unit (M.E.L.T. BUS) has expanded the mission and reach of GBDCEI. "Like the M.E.L.T. BUS, the Y.E.S event is designed to bring the abundance of resources in South Florida to segments of the population who has geographical and other socio-economic challenges which prevents them from benefiting from those resources," said Alterraon (Al) Phillips, GBDCEI Chairman of the Board.
The Summit program will include:
· Annette Gray as the Keynote Speaker & Technical Trainer
· Creation of a Peer to Peer Mentorship Program for Y.E.S Participants
· Business Concept Group Competition
· Skills/Resource Marketplace
· Shark Tank Presentation Competition Judged by local Judges
"GBDCEI could not do this event without the support of Jamaica Energy Partners as a sponsor and UWI Mona Guild of Students as a host. I spend a significant amount of time developing the youth of the South Florida community where I live. I am ecstatic for the opportunity to do the same in the land of my birth," said Gray.
"We are proud to be the sponsor of this event. As an organization we believe strongly that fostering a mindset of global citizenship and cultivating entrepreneurial skills will enable our young adults to have global impact as competitive change makers," said Wayne Mckenzie President and CEO of Jamaica Energy Partners.
The Youth Entrepreneurship Summit is free and interested parties can reserve a ticket by sending an email to info@gbdcei.com.
About GBDC Entrepreneurship Institute
GBDC Entrepreneurship Institute is a 501c 3 organization. Our Mission is the development of social entrepreneurs through training, business coaching and technical assistance. Emphasis is placed on young entrepreneurs and the homeless; to aid in the reduction of school dropout rates and the increase in employability skills and job creation.
About Jamaica Energy Partners
Jamaica Energy Partners (JEP) is currently the largest Independent Power Producer (IPP) in Jamaica. JEP owns and operates two power barges, Doctor Bird I and Doctor Bird II, with outputs of 74.2 MW and 50.2 MW respectively; or a combined output of 124.4 MW.
JEP Mission:
We commit to producing energy in the most cost-efficient manner and the highest standard of service to our customers, ensuring delivery in a safe and environmentally-responsible manner. We are ready to supply Jamaica's growing energy needs, utilizing the competencies of our staff and fellow citizens. We pride ourselves in being good corporate citizens, fully engaged in community development by way of partnerships through education, sports and health initiatives.
About UWI Mona Guild of Students
The Guild of students is the official body for student representation on the MONA Campus of the University of the West Indies. The Guild was established in 1951 as the Guild of Undergraduates and in 1966 was changed to the Guild of Students so as to include not only undergraduate students as full member but Graduate Students as well.
Contact
GBDC Entrepreneurship Institute
Annette Gray
561-894-4510
gbdcei.com

Contact