Prairie Fire Winery Launches New Sustainable Candle Line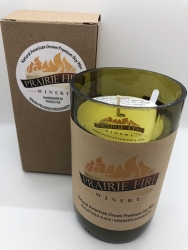 Paxico, KS, October 23, 2019 --(
PR.com
)-- After nearly two years in development, Prairie Fire Winery released their new wine bottle candle line.
As a part of Prairie Fire Winery's sustainable mission, no bottles from their tasting room have ever been sent to a landfill. Wine bottle candles use a repurposed cut wine bottle, giving the bottles a second and possibly perpetual life. It took Prairie Fire Winery over two years to develop the candles to achieve their sustainability goals, while ensuring they could source the best ingredients to make the most natural product possible. Every candle is handmade at their vineyard utilizing 100% American grown soy wax and are free of phthalates, dyes, lead, and zinc.
"As an industry, wineries do not reuse their bottles, which has always troubled me," said Winemaker and now Candlemaker Bob DesRuisseaux. "We have never thrown a bottle away since our first day of operation, instead finding alternative uses for them. Up to 60% of a winery's carbon footprint is said to be tied to the bottles. This is an area where we can focus the most attention to reduce our impact on our environment. We have approached everything we have done in the most sustainable way possible, and our candle line is a natural extension of that mission."
Fifteen unique candles are currently available in cut wine bottles and reusable 8 oz. travel tins at Prairie Fire Winery's vineyard tasting room in Paxico, KS. Interested retailers and fundraising organizations can contact info@prairiefirewinery.com for wholesale opportunities.
About Prairie Fire Winery
Located 15 minutes West of Topeka, Prairie Fire Winery grows 13 varieties of wine grapes and produces award-winning Kansas wines at its vineyard on the South side of I70 in the beautiful Flint Hills of Wabaunsee County. Every wine is produced using Kansas grown grapes. We also produce the first and only Methode Champenoise (Traditional Method) sparkling wine in Kansas history. Offering over 30 wines from dry to sweet, we have something for everyone. Learn more at: www.prairiefirewinery.com
Contact
Prairie Fire Winery
Robert DesRuisseaux
785-246-6500
www.prairiefirewinery.com

Contact