TekNmotion Explodes Onto the Gaming Audio Scene with Release of Pulsar SX PC Gaming Headphones
Connect via USB or audio plug, the choice is yours. Feature packed, stylish gaming headphones that sound great and are affordable for all PC gamers.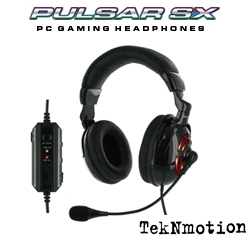 Lake Forest, CA, April 09, 2008 --(
PR.com
)-- TekNmotion, manufacturer of quality PC accessories and media storage products, today announced it's entrance into the PC gaming accessory market with the launch of its new Pulsar SX PC Gaming Headphones. The Pulsar SX brings quality audio, impressive features, attractive styling and an affordable price all PC gamers will appreciate.
Unlike most gaming headphones on the market, the Pulsar SX was designed to offer PC gamers the opportunity to customize their audio experience. The Pulsar SX not only delivers quality sound, but it awards gamers an important option. The Pulsar SX supports both 7.1 channel virtual surround sound using a USB 2.0 connector and 2.1 channel stereo sound using a standard 3.5mm audio plug. Now gamers can choose which type of connection works best for them with the flick of a switch. Regardless of your sound card, PC or Mac, Pulsar SX delivers both superior audio performance and compatibility.
The Pulsar SX comes loaded with innovative features that gamers want and need. To communicate with other players, the Pulsar SX has a detachable noise-canceling microphone. Pulsar SX also sports immersive Sonic Force Feedback vibration effects, allowing you to not only hear the sound, but feel it too. Pulsar SX also puts on a pulsating and dazzling light show tied to the game action or music making you the center of attention. Both the vibration and lighting effects can be adjusted using the Dynamic Master Control unit.
Not only is the Pulsar SX versatile and stylish, it's also light and comfortable. Padded ear cups and a soft, cushioned leather headband gives the user a custom fit and hours of comfortable game play. The Pulsar SX is also perfect for music listening and is compatible with virtually all portable music players. While on the go, you can experience the lights and vibration of the Pulsar SX by using the included external battery pack.
"It's well documented that PC gamers like an immersive gaming experience, but they also like to customize that experience and be given options. The Pulsar SX allows gamers to customize their gaming audio experience like never before, without sacrificing quality, coolness or breaking their wallet," said Jason Williams, Product Development Manager for TekNmotion. "The unmatched versatility, feature set, comfort and fantastic price of the Pulsar SX shakes up the concept of what gaming headphones should be."
The Pulsar SX PC Gaming Headphones features include:
• USB 2.0 connector for 7.1 virtual surround sound
• 3.5mm Stereo Audio Jack Connector
• Speaker Diameter 40mm
• Speaker Frequency Range 20Hz – 20,000kHz
• Speaker Sensitivity 102db
• Dynamic Master Control w/ shirt clip
• Sonic Force Feedback vibration effects
• Blue, Green and Red Pulsating Lights
• 9.5 feet (2.8m) Connector Cables
• Detachable Noise-Cancelling Microphone
• Microphone Frequency Response Range 50Hz – 16,000Hz
• Microphone Sensitivity 58dB
• Padded Leather Headband and Ear Cups
• Adjustable Fit
• External Battery Pack w/ Velcro strip
• C-Media 108 USB 7.1 Audio Drivers
• Windows XP and Vista Compatible
• Works with iPod®/MP3 Players
The Pulsar SX PC Gaming Headphones retail for $59.99 and can be purchased from GoGamer.com, Amazon.com, NewEgg.com, Fry's Electronics and other fine retailers. The Pulsar SX is distributed by CompuExpert. For more information on the Pulsar SX PC Gaming Headphones please visit www.teknmotion.com/pulsar.
About TekNmotion
Founded in 2006, TekNmotion specializes in designing and manufacturing innovative PC accessories and quality media storage products. In the short span of two years, TekNmotion has quickly become a leader in media storage products and now PC gaming audio. TekNmotion strives to bring useful and innovative products to consumers and resellers at an affordable price. TekNmotion works with its retail partners and distributors to meet the ever increasing demand of a technology fueled marketplace.
TekNmotion is located in Lake Forest, CA. For more information, visit them at: www.teknmotion.com
For additional information or sales contact:
Brian Cortright
General Manager - TekNmotion
877-599-7378
brian@teknmotion.com
###
Contact
TekNmotion
Jason Williams - Marketing / Product Development
877-599-7378
www.teknmotion.com
Brian Cortright - General Manager
brian@teknmotion.com

Contact