Popularity of "Spiritual Water" Inspires Launch of Profitable Network Marketing Opportunity
New Business Combines a Recession-Proof Product with a Spiritual Mission to Revive Faith, Hope, and Health.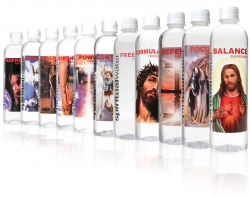 Miami, FL, April 14, 2008 --(
PR.com
)-- The Spiritual Water brand involved nearly a decade of planning and two years of intense marketing that earned it rave reviews and major national and international media attention. Each bottle of refreshing water is decorated with beautiful graphics of hand painted illustrations of Jesus, Mother Mary, and other holy images and symbols. And each includes a special prayer connect or reconnect a person with God, lift left their spirits, and create positive thinking for positive results.
But as the USA enters a recession and people worry how to pay their bills and maintain their families, the inventor of the phenomenally popular product has chosen to take an unconventional path for the sake of those who believe in it.
Elicko Taieb, founder and owner of Spiritual Brands, the parent company of Spiritual Water, explains: "We had many offers from chain stores, department stores, and beverage distributors to buy Spiritual Water and sell in across the USA. They even requested licenses to make and sell the water in other countries. But we chose to change our business plan to fit the needs of those faithful people who drink it. We want to share the spiritual and financial prosperity with the people."
Many claim that the attention, respect and story behind every Spiritual Water bottle cannot be shared if it is just another product lost on the shelf of a convenience store refrigerator. But now people have a chance to share Spiritual Water with family, friends and others on a personal level. And while they tell their story and share their beliefs, they also earn profits that would otherwise have gone to big corporations and beverage distributing companies.
"This way we can help ordinary people build an extraordinary business and gain financial freedom," says Mr. Elicko. "In spite of all the doom and gloom about the current economy, the credit crisis, and the fact that people are feeling spiritually lost and physically stressed."
Elicko says that when it comes to making money, some people can see a cup of water half full and the others see the same cup of half-empty. "But we prefer to just fill it with until it overflows with refreshing spiritual water. Millions of people who believe and want a better life can realize their dreams and aspirations, while also owning their own profitable business that follows a spiritual path and encourages spiritual life and prosperity."
To see the Spiritual Water network marketing video, "Watch and Grow Rich," please visit: http://spiritualh2o.com/resource_videos.php
Media Interviews Available
Contact Info:
Spiritual Brands, Inc.
Tel: 800-736-9070
Fax: 954-208-0696
Email: support@spiritualH2O.com
Email Mr. Elicko Taieb at elicko@spiritualH20.com
For more info, please visit the Spiritual Water Web Site:
www.SpiritualH2O.com
About Spiritual Water:
The mission of Spiritual Water is to help people think positive, lift up their spirit, give them a chance to believe in themselves and let them know that God is with them. Help making the world a better place - when you think positive and your spirit is up, then everything you do throughout the day will work for you. Every bottle makes a difference, because Spiritual Water will donate ten cent ($0.10) of every bottle sold to The Spiritual Foundation, a foundation for children in needs.
###
Contact
Spiritual Brands, Inc.
Mr. Elicko Taieb
800-736-9070
www.spiritualh2o.com

Contact