Nova USA's ExoShield Wood Stain Now Available in Multiple Sizes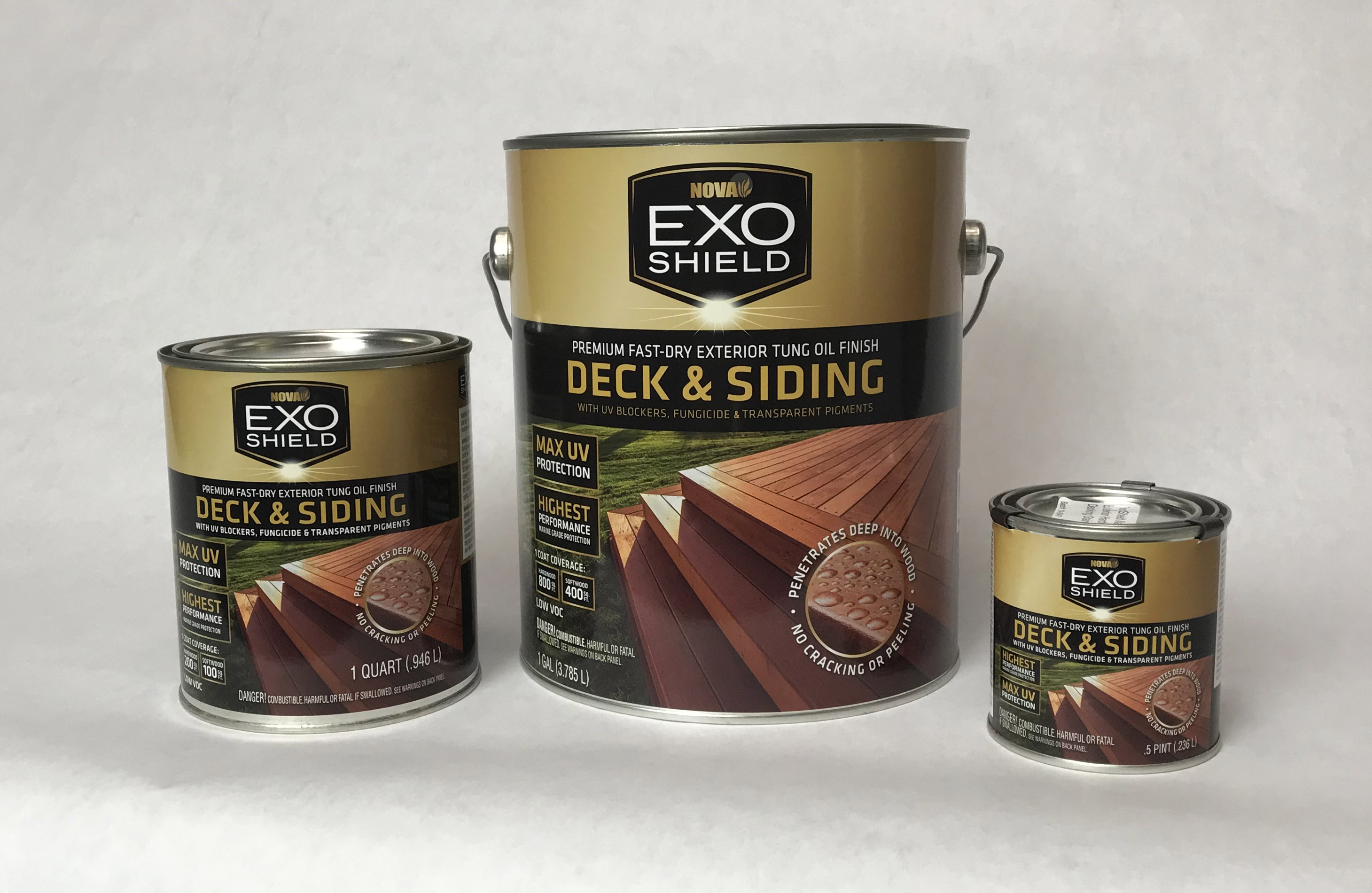 Portland, OR, June 09, 2020 --(
PR.com
)-- Nova USA's full color palate of ExoShield Wood Stains are now available in gallon, quart and half-pint sizes to accommodate nearly any application ranging from large decks and siding to posts, rails and outdoor furniture. Specifically-designed to provide long-lasting, superior protection, ExoShield's entire line of high-quality Platinum, Antique Bronze, Natural, Mahogany, Walnut and Black Walnut stains can be purchased in all three sizes to enhance the color stability and beauty of virtually any exterior wood product.
"Few competitive wood stains can match ExoShield's luster and long-term results," says Steve Getsiv, president and CEO of Nova Wood Products. "This includes the ability to protect against moisture, UV rays, fungus and mold in even harsh, extreme environments. Now available in three separate sizes, users can choose the ideal amount to finish everything from large exterior hardwood projects to small softwood products – all with the same luxurious, aged look and durability."
Using a proprietary blend of Tung oil, UV blockers, fungicide, and trans-oxide pigments, ExoShield's water-resistant, acid-resistant formula is ideal for enhancing wood stability, reducing cracking or warping, delaying graying and protecting against water damage, fungi and harmful UV rays. In addition, ExoShield applications are extremely cost-effective, costing as little as 16 cents per square foot on tropical hardwoods.
Another ExoShield advantage is the ability to mix any of the colors in its palette to create differing stain shades. For instance, users have found that a touch of Black Walnut added to the company's standard Walnut produces a deep rich medium-brown color with red undertones. Another great mix is Black Walnut and Mahogany, which have been combined to create a Black Cherry dark Mahogany color.
Nova USA's ExoShield Wood Stain can be purchased online at novausawood.com/exoshield with free shipping throughout the continental U.S. For more information on the company's entire line of high-quality hardwood products and accessories please visit www.novausawood.com or call 503-419-6407.
About Nova USA Wood Products
Launched in 2005, Nova is dedicated to the supply of superior, high-quality hardwood products and accessories available at the most competitive prices in today's marketplace.
Contact
StarrComm
William Chelak
732-541-8471
www.novausawood.com/

Contact