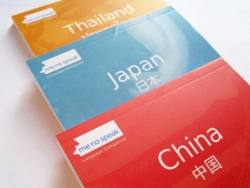 San Francisco, CA, April 25, 2008 --(
PR.com
)-- Japan and Thailand join China in the Me No Speak roster of travel titles that help people communicate more effectively when traveling in foreign countries with hard-to-speak languages and unfamiliar alphabets.
Me No Speak
language companions break the mold of traditional travel phrase books by helping people express their needs without struggling with language pronunciation. With Me No Speak, one simply points at what s/he wants to say using picture lexicons, point-to-phrases, and restaurant-style menus familiar to Westerners. The size of a passport, Me No Speak books fit in the pocket and cover everything from arranging transportation and accommodation to ordering food, shopping, and obtaining medical care. Each title has been carefully researched and customized for the particulars of its destination, translated by native speakers, and field tested by the Me No Speak founders and authors.
A second edition of their first title, China, replaces the first edition published in 2006.
###
For a review copy, or to schedule an interview with the author, email: cheryn(at)menospeak.com