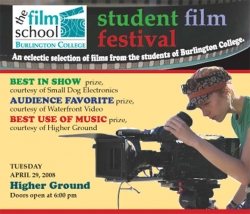 Burlington, VT, April 25, 2008 --(
PR.com
)-- http://dreamlikepictures.com/film/Mixdown.mov
Now in its 8th year, the popular student film festival showcases work by students enrolled in Burlington College's Cinema Studies and Film Production major. This year's entries include short works in the narrative, documentary, and experimental film categories, and several music videos. Highlights of the festival include a music video featuring the Connecticut hip hop duo H.U.S.HH, short films made by students in Allan Nicholls's Experimental Film class, and the first public screening of "American Cheese," Burlington College's award-winning entry in the 2007 "Sleepless in Lake Placid" 24-hour filmmaking competition.
"This year's festival is exceptional for the range of genres and subject matter represented by the films," notes Barry Snyder, Chair of the department of Cinema Studies and Film Production. "It reflects a growing diversity among students in our production courses, as well as our continuing efforts to encourage students to broaden their conception of the possible ends to which filmmaking skills can be applied."
In addition to being an end-of-the-year celebration of student work, the festival will feature prizes in three categories: Best in Show (sponsored by Small Dog Electronics), Audience Favorite (sponsored by Waterfront Video), and Best Use of Music (sponsored by Higher Ground).
Since 1995, the Burlington College Film Program has produced a number of graduates who have gone on to make their mark in the film community. Among the accomplishments of its graduates, five Burlington College Film School alumni worked on director Courtney Hunt's "Frozen River," recent winner of the Grand Jury Prize at this year's Sundance Film Festival. http://dreamlikepictures.com/film/Mixdown.mov
Entrance is free. Door opens at 6 pm.
###