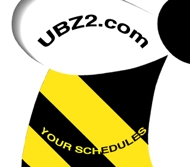 Boston, MA, April 29, 2008 --(
PR.com
)-- Coming on the coattails of the Bush – Putin Joint Press Availability in Sochi, Russia earlier this month UBZ2.COM LLC announces $125,000,000 USD Technology Loan from VOLK Finance Group, of Moscow, Russia. UBZ2.COM LLC has signed a 10-year loan note with the well-known and prominent Volk Finance Group. UBZ2.COM LLC Has gone through the rigors of international due diligence to include extensive correspondence with the US State Department and Embassies in the US and Moscow have been notified. Bush–Putin Press: http://www.whitehouse.gov/news/releases/2008/04/20080406-3.html
"Bringing nations together in the twenty-first century that have different perspectives of life and ways of doing business is a challenge." Says Joe Fox Executive Producer for UBZ2.COM a Grand World Wide Social Network for Sports and Activities. Russia businessmen have been brought to task by numerous international agencies, officials and magazines. Fox says "it is a long and tedious process, to even inform all the necessary agencies and authorities required of international and Patriot Act requirements for a large technology loan like this."
Technologies that will be given a jump start in Russia include UBZ2 schedules, VOip, audiblization, video library, publishing software, commerce, GPS, security, IM, IPTV, .MOBI, gaming and others.
This loan is the first of two equal installments with the second portion of an additional $125,000,000 USD being designated to the development and deployment of a National Headquarters and at least two other UBZ2 Sports, Peace and Activity Centers, (SPACE) as well as a web and mobile based "Russian" version of UBZ2. Details of that "Master Franchise" are forthcoming. UBZ2.COM has chosen partners by Letter of Intent (LOI) with a major International Chinese Company. They are in final discussions for franchises in India and the Middle East as well.
"My Mom at first was concerned about dealing directly with the Russians," chides Joe Fox. UBZ2.COM LLC exhaustively researched VOLK and found they looked for nothing more than what American Businessmen want, a fair return and technology exchange. They were not only validated but were highly recommended by the Federation of Russia Legal and Trade Advisor in Washington D.C. Some of the technology developments in UBZ2 will be developed in Russia. Fox calls it "win-win through common sense". UBZ2.COM LLC sent the agreement to the Senate Chairs of Commerce and Small Business – Senator Inouye and Kerry as well as Senator Kennedy as UBZ2 has incorporated in Massachusetts.
###