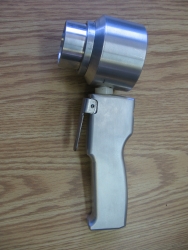 Rimouski, Canada, May 10, 2008 --(
PR.com
)-- AMH Canada Ltd has launched a hand-held version of the popular Spectra-Jet unit that dries waterborne basecoat in as little as 2 minutes per coat.
Again one of the features of the unit is the ability to run on reduced air supplies and still achieve fast drying results. Another important feature is the trigger valve, making it a one hand operation instead of the normal on/off valve.
The Spectra-Jet has undergone field trials and tests carried out by several major paint companies. Peter Phillipson of AMH Canada commented "The introduction of the hand-held version was driven by customer demand. If a small area of basecoat has not fully matted out it does not make sense to employ a large drying system, the hand-held Spectra-Jet is an ideal tool to complete the drying process."
The product is being launched in both North America and Europe in May 2008.
www.spectratek.co.uk
###