Fatigue Rated Pancake Load Cell: Can Now be Provided in 2 mV/V Output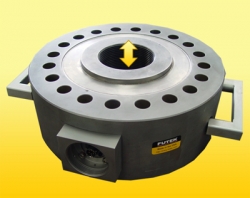 Irvine, CA, May 22, 2008 --(
PR.com
)-- Futek Advanced Sensor Technology, Inc. (www.futek.com) can now provide its fatigue rated version of Pancake Load Cells LCF700 in 2.0 mV/V output: LCF701 Fatigue Rated Pancake Load Cell. Futek can also provide this model with a tension base. These load cells are primarily used in inline applications on actuators or threaded assembles. Futek currently carries these models in 1.0 mV/V output as a standard but can provide the new 2.0 mV/V output per request. Engineering Manager, Richard Walker commented that "Futek plans on phasing out the 1.0 mV/V standards over the next 18 months making the 2.0 mV/V output a standard." In addition to the high output, the noted Pancake Load Cells are built for a long fatigue cycles. Capacity options will be limited to 200,000 lbs utilizing a stainless steel structure making them more suitable for harsh environments. Options for amplified version and threading for both Standard and Metric are also available.
Futek also provides a Standard Calibration Service in Compression (free of charge) for these Pancake Load Cells per NIST Traceable Standards. A NIST traceable calibration certificate for the product will be issued. The certificate will then be accessible for review online 24/7 using the sensor ID#. Futek has an ISO17025:2005 A2LA accredited laboratory that can also provide additional calibration options such as a complete System Calibration (if an instrument is selected with the Pancake Load Cell). By selecting the system calibration, your sensor and instrument will be integrated as one system. The complete system will be set up, configured, scaled, calibrated, and ready for plug and play.
Over the last 20 years, Futek has built itself a solid reputation as a custom solution load cell manufacturer. The company carries over 25 different Pancake Load Cell Models and over 400 products covering various Load Cell, Torque Sensor, Force Sensor and Pressure Sensor applications. With an in house machine shop, full manufacturing company and experienced research and development team, Futek will modify an existing standard product or completely customize a design per customer's requirements. In addition to its complete Load Cell Line, the company manufactures Pressure Sensors, Torque Sensors, and Force Sensors with all required Instruments and Accessories.
###
Contact
Futek Advanced Sensor Technology, Inc.
Navid Mokhberi
949-465-0900
www.futek.com

Contact