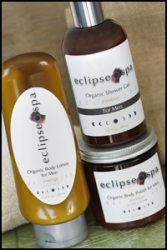 Danville, CA, June 03, 2008 --(
PR.com
)-- EclipseSpa introduces a complete bath and body line formulated especially for men's skin types. Now men can attain healthy, touchable, sexy skin using products that are safe for them and safe for the environment. The new line of all-organic, paraben free products includes the
Triple Play
: Shower Gel, Body Polish and Body Lotion.
Designed to cleanse and hydrate, the Bamboo Shower Gel leaves men feeling clean without the tight skin drying effect that many mass-produced bar soaps create. The organic Body Polish, also designed for shower use, sloughs off dead skin cells - a major cause of ingrown hairs in men. It contains organic Gotu Kola that works specifically to stimulate the production of collagen and skin cell regeneration. It's easy to use and gentle enough for faces.
The star of the Triple Play is the
Energy Body Lotion.
The ingredient deck in the ultra-rich moisturizer includes aloe, sunflower oil and coconut oil, each of which lend to this lotion's silky texture. The body lotion also contains red raspberry oil. Known especially for its prevention of rashes, eczema and other skin lesions, red raspberry oil acts as a broad-spectrum UV-A and UV-B shield. The red raspberry oil together with Shea butter, which has a natural occurring SPF of 6, gives the Energy Body Lotion a SPF of 18. Mandarin, tangerine and peppermint essential oils infused in the body lotion give it an invigorating scent that provides the burst of energy needed to start every day.
The EclipseSpa Sexy Men product line includes a natural Shaving Kit with a shaving soap, shaving bowl, brush and razor. Eucalyptus-Sandalwood, Lemongrass-Sage and Woody handcrafted natural soaps round out the line. Among the natural ingredients in the Sexy Men soaps are chips of cedarwood and bits of fir needles, both of which have traditionally been used to relieve joint and muscle pain.
EclipseSpa is committed to sustainable practices and providing the best ever organic bath & body essentials for men and women to spa at home. EclipseSpa uses natural raw ingredients in its products. Most of the herbs and additives have been certified organically grown. All products are paraben free. EclipseSpa does not test products on animals.
For further information, or to request a sample of soaps, shower gels or lotions, please contact Anne Keefe at
annekeefe@eclipse-spa.com
or 925.743.4198.
###