Nature Maiden Bath & Body Announces the Release of New Products
Nature Maiden announces the release of new product to it's line. New products include wonderful homemade soaps, bath salts, salves & bath bombs.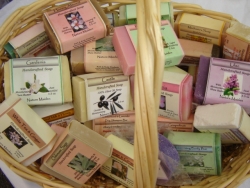 Mattituck, NY, June 11, 2008 --(
PR.com
)-- Nature Maiden® Bath & Body announces new products to its line.
Nature Maiden Bath & Body Products are made with wholesome, premium ingredients that soothe, nurture and pamper.
Back in 2007, A local woman launched her own line of bath & body products right out of her kitchen. The Nature Maiden product line includes soaps, body butters, lip balms, bath salts, lotion bars, salves & more. Connie McCaffery works full time, is married, has two sons and many pets. Mrs. McCaffery is a horticulturist at heart. The Nature Maiden product line was born accidentally, as Mrs. McCaffery wanted to make lip balm for her own use. After researching ingredients and testing recipes, she came up with a lip balm which she decided to sell. The Nature Maiden lip balm line now includes over 30 varieties. With the birth of the lip balm line, soon other products soon followed; solid perfumes, bath salts, salves and soaps.
Mrs. McCaffery eagerly shared her creations her family, friends & co-workers. The response to her products was extremely positive, and with that, the Nature Maiden product line was born. It was not hard for her to come up with a name for her product line, loving nature, and using wholesome butters & oils, 'Nature Maiden' seemed to fit perfectly.
New products added to the Nature Maiden® line this Spring are: gardener's earth scrub bar, fisherman's lemon scrub soap, lavender shaving soap, cedarwood & lavender dog shampoo bar, honey & oats with tea tree dog shampoo bar, coffee kitchen scrub bar, & vanilla grapefruit Soap. Also added to the body butter line are plumeria and vanilla grapefruit scents. Shea butter cuticle salve is also new, and comes in a handy 1oz tin.
99% of the ingredients used in Nature Maiden products are all natural. All products come with their ingredients listed, so you know what you're getting. The idea behind the Nature Maiden product line was to use wholesome ingredients taken from nature itself. Except for the use of some fragrance oils, all ingredients used are all natural. For the most part, mainly essential oils are used.
The Nature Maiden product line has a great variety of products along with reasonable prices. Finally, quality products that don't cost a fortune.
For additional information you may contact Mrs. McCaffery at 631-298-0121 or visit her online store at: www.NatureMaiden.com. All products may be purchased through her website. Average processing time for shipping orders is two business days. Nature Maiden is a registered trademark.
About Nature Maiden: Founded in 2007, The Nature Maiden product line was created in Mrs. McCaffery's kitchen out of a desire for wholesome products that are safe & nurturing for your skin.
A need to use ingredients that are derived from nature is the main focus in her products. There are currently more products in production to be added to the product line, so check back often. Soy candles coming Fall 2008! Also: more products are in the works to be added late 2008 and into 2009. You can sign up for product release notifications, which also puts you on a list to receive valuable coupons off orders on her website.
http://health.groups.yahoo.com/group/naturemaiden/
You can find Mrs. McCaffery and her Nature Maiden® products at the Old Fashioned Street Fair on Love Lane in Mattituck, NY July 12, 2008, 9-4 pm, with a rain date of July 13th. Many of her products will be featured including her soaps, bath salts, salves, bath bombs, & more.
Please note that Mrs. McCaffery also accepts custom orders, and also offers wholesale to businesses. Currently available for businesses are: Gardener's Salves, Healing Salves, Specialty Scrub Bars, Shaving Soaps, and Gardener's Scrub Bars; all come labeled. Included with these products is a handsome wooden crate, ready for display. Call Mrs. McCaffery for more information or visit her website and click on the 'Wholesale' link.
Connie McCaffery
631-298-0121
owner@naturemaiden.com
###
Contact Information NatureMaiden.com
Connie McCaffery
631-298-0121
owner@naturemaiden.com
www.NatureMaiden.com
Contact
NatureMaiden.com
Connie McCaffery
631-298-0121
www.NatureMaiden.com

Contact