The Top 10 Reasons to Vacation at a Clothing Optional Resort This Summer
Traditionally, Americans had to travel to Europe or the Caribbean to enjoy topless and nude sunbathing at nice upscale clothing optional resorts. In the past decade, nudist resorts in the United States have emerged as the world leaders in nude vacations. Sunny Palm Springs, California is considered one of the top meccas for topless and nude sunbathing vacations.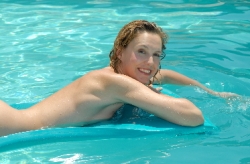 Palm Springs, CA, June 17, 2008 --(
PR.com
)-- The Terra Cotta Inn clothing optional resort and spa located in sunny Palm Springs, CA
http://sunnyfun.com
is a popular naturist resort for topless and nude sunbathers. Called the most mainstream nudist resort in America, it is perfect for couples vacationing at a nudist resort for the first time. Women feel very comfortable there as they are allowed to ease into getting an all over tan at their own pace.
Here is their list of the Top 10 reasons to Vacation at a Clothing Optional Resort this Summer:
10) No need to spend $15/bag to check luggage at airport.
9) If everyone vacationed at nudist resorts, Airports could go clothing optional solving lost luggage problems.
8) Waves don't knock off your swim suit top.
7) No laundry to do when you get home from vacation- save the environment
6) Women do not have to go through the humiliation of buying a new bathing suit.
5) You won't be embarrassed if the towel slips during a massage.
4) No funny tan lines.
3) Each days hardest decision is matching your sandals to your visor.
2) Your friends will finally really want to see your vacation photos.
1) Vacationing at clothing optional resorts is just plain fun.
This summer, for a fun clothes free vacation, say goodbye to funny tan lines forever. Give The Terra Cotta Inn a call at 1-800-786-6938.
###
Contact
The Terra Cotta Inn Clothing Optional Resort and Spa
Tom Mulhall
1-800-786-6938
http://sunnyfun.com

Contact