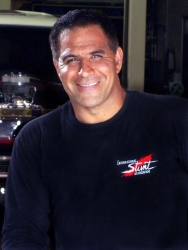 Dallas, TX, June 24, 2008 --(
PR.com
)-- Celebrate Freedom is the largest free outdoor Christian concert in the country taking place in Frisco, Texas on June 27 and 28. This event is estimated to draw in a staggering 600K+ audience. 500,000 advance tickets have already been distributed. This concert will feature special guest world evangelist and author Luis Palau, over 28 musical acts including Kirk Franklin and Mandisa, top BMX Pros, Untitled Skateboards, Bikers for Christ, Monster Trucks, Country Western dance team Aggie Wranglers, Dallas Desperado Dancers, and more. Sponsors include Verizon Wireless, Pizza Hut, Capitol One Bank, Dr. Pepper, Toyota and Habitat for Humanity to name a few. This event will be broadcast via TV, print and radio. For more information visit http://www.klty.com/celebratefreedom/index.htm.
Sammy will also be speaking and giving rides on Sunday June 29 at 9:30 am at New Life of McKinney; McKinney Performing Arts Center located in the middle of downtown McKinney in the historic courthouse and on Wednesday night July 2, 2008 at Covenant Church 4100 N. Travis Street Sherman Texas.
Children and adults will have the opportunity to win an unforgettable ride next to Sammy inside his custom built stunt car. Winning products, giveaways, photo opportunities and signed autographed pictures will also be available.
Learn more about Winning at the Race of Life, see several videos, pictures and even download a Free full color 44-page magazine at
http://www.sammymaloof.com.
Sammy strongly believes the younger generation needs to know that God has a wonderful plan for their life and can give them their hearts desires just as He did for him in the movie industry and other areas of his life.
###
Sammy and the entire Winning at the Race of Life team have volunteered their time to support this event. Contributions and Sponsorships are greatly appreciated. Winning at the Race of Life is a 501 (3)c non-profit organization.