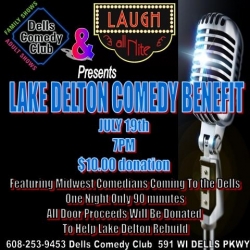 Highland Park, IL, July 06, 2008 --(
PR.com
)-- When Laugh All Nite, Inc. President, Ricky March saw the pictures of the devastation in Lake Delton,Wi. the first call he made was to Elisabeth and Rich Wylde owners of the Dells Comedy Club in the Wisconsin Dells. Already concerned by the drop off in business by high gas prices, the area businesses faced a prospective crisis. Beautiful Lake Delton had drained, not just a few inches, but was now empty.
The Wyldes and March decided to create and event to not only raise some money for the devastated area, but to try and put a smile on the faces of the area residents...at least for a little while.
Along with Chicago Comics Brad Flowler and Stacey Crawley, Ricky March will headline this benefit show.
"It makes me feel good to give back to an area in need, said March."
###