3touch Nominated for ABPM Membership by Dell; the Only European Supplier to the Association Briefing Program Managers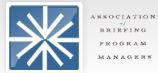 Athlone, Ireland, July 08, 2008 --(
PR.com
)-- 3touch, nominated by Dell Ireland; have today become full supplier members of the Association of Briefing Programme Managers. The Association of Briefing Program Managers was formed in March, 1994 and is comprised of approximately 400 members from 100 Fortune 500 companies. In welcoming 3touch, Roxanne McCreery, President of ABPM stated that "The criteria for allowing supplier members to join is very strict, only about 10% of the membership consists of supplier members who are vendors who must be nominated by company (briefing professional) members who are satisfied with their services"
Eamonn Roarke, founder of 3touch stated that, "it was a privilege to be invited to become a member of this global organisation and to be able to share in the global success of professional briefing centres" 3touch is currently the only European Supplier Member of the Association, with the rest of the suppliers based in the US.
The 3touch product is ideally suited to the Executive Briefing Centres and gives presenters the power to be as flamboyant as they want during their presentations. 3touch is specifically focused at end-users and everything is developed with ease of use as a primary focus. He said, "That 3touch was the first company to bring a totally integrated turnkey solution for the meeting room environment and as such was leading the way in unified and converged audio visual solutions."
Roxanne stated, "I had the opportunity to experience using 3touch first-hand at our recent Dell FocalPoint meeting. Truth be told, I had some trepidation because there was no break between the previous speaker's comments and mine, and I hadn't been given a tutorial on the system. I needn't have worried. In front of the audience, our host said he would teach me in 30 seconds. And he did! It was just that easy."
About ABPM:
Located in Dallas, Texas, the ABPM's mission is to foster the success of its members by facilitating the exchange of information, developing briefing professionals, defining standards of excellence, and delivering innovative programs and resources. For further information, please contact info@abpm.com or Phone +1 214 389-0990
About 3touch:
3touch is an Irish software company that delivers the first totally converged AV solution to the market place. All you need to run 3touch in any meeting room is a computer, they do all of the other functions through software. The 3touch product suite delivers a number of modular functions all encompassed within the one software solution. Requiring no proprietary hardware, it is a truly flexible and easy to use solution. 3touch solution covers the following AV areas, Presentation & Content Management and Delivery, Interactive Whiteboard Applications, Room Control, Room Booking and Management system, Automated Video Conferencing scheduling and setup, Equipment & PC Monitoring, IPTV/ Video on demand and Digital Signage.
Contacts: Ireland +353 90 6444000, UK +44 207 526 4990 USA +1 203 903 0034 . info@3touch.com
All trade marks and copyrights mentioned above are acknowledged to be owned by the respective companies.
###
Contact
3touch
Anita Myers
+353906444000
www.3touch.com
UK Office +442075264990
US Office +12039030034

Contact