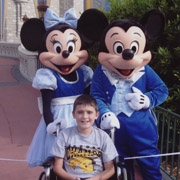 Orlando, FL, July 18, 2008 --(
PR.com
)--
Scooter Vacations
, a premier Orlando scooter rental company is pleased to announce their special Guardian Angel charitable contribution status with
Kids Wish Network
. This special Guardian Angel status is in recognition of Scooter Vacations' on-going commitment to assisting Kids Wish Network with wish children who require mobility support while visiting the Orlando area. Scooter Vacations has donated scooters free of charge to these children. Wish kids visiting the area with their families will now have the added benefit of utilizing a Scooter Vacations mobility scooter, electronic convenience vehicle (ECV).
Anna Lanzatella, Director of Development with Kids Wish Network, is thrilled with this unique partnership. "Scooter Vacations mobility scooters are a perfect fit with our charitable goal. We serve hundreds of children nationwide whose wish is to visit Walt Disney World or some of the other many great attractions in Orlando. Sadly, many of these kids do not have the ability to truly enjoy all there is to experience due to some physical limitations they may have as a result of their illness or medical condition. Our goal is to have them experience the trip of a lifetime, and with the most generous assistance of Scooter Vacations, we can better ensure their dream trip is the most memorable of their lives!"
"We are so proud to be the provider of mobility scooters for use by the Kids Wish Network wish granting program and to be awarded this status," said Jo Ellen Andrew, owner of Scooter Vacations. "Our wide selection of transportable scooters and electric wheelchairs are a perfect match as four of our models can easily fit in a car or taxi trunk, allowing recipients that commute to the area theme parks a means to have a mobility scooter available for their use wherever they go in the area such as popular children wish theme park spots of Walt Disney World, Universal Studios, Islands of Adventure and Sea World."
About Kids Wish Network
Kids Wish Network is a nationally recognized non-profit organization dedicated to infusing hope, creating happy memories and improving the quality of life for children. The charity grants wishes to kids between the ages of 3 and 18 who are battling life-threatening conditions. Their wish kids can request just about anything for their wish, including trips to theme parks, meeting celebrities, travel, shopping sprees, computers or commodities.
If you know a child between the ages of 3 and 18 who may be in need of its wish granting services, please call 727-937-3600 or toll free 888-918-9004. For more information on Kids Wish Network, visit their website at http://www.kidswishnetwork.org or their blog at http://kidswishblog.org.
About Scooter Vacations
Scooter Vacations, Orlando's premier scooter rental company for Orlando Scooter Rental, Disney Scooter Rental, Sea World Scooter Rental and Universal Scooter Rental offers a range of luxurious mobility scooters to vacationers visiting the Orlando area and embarking on cruises from Port Canaveral. Users—including the mobility-impaired, families looking for a "survival utility vehicle" to make their theme park vacations more effortless and individuals interested in more quickly and enjoyably navigating destinations by personal transporter—choose Scooter Vacations for the perfect scooter touring experience. The only sporty Electronic Convenience Vehicle (EVC) rental company to provide the most technologically advanced scooters, it offers four models that quickly and easily fold-up or disassemble for storage or transportation in a compact car or taxi trunk and can support a rider weight capacity of up to 450 lbs, as well as a specially designed, large wheel and luxury seat model for on-property guests that accommodates up to 500 lbs. Scooter Vacations offers mobility scooter rentals beginning at only $25 per day. Visit us on-line to make reservations or learn more about the models offered at www.ScootOrlando.com or contact us by telephone at 1 (407) 705-3705 or in the UK at 02071 009289.
Contact: Anna R. Lanzatella, CFRE
Kids Wish Network, Inc.
www.kidswishnetwork.org
US and international: 727 937-3600
Anna@kidswishnetwork.org
Contact: Jo Ellen Andrew
Scooter Vacations – www.ScootOrlando.com
US and International: 407-705-3705
Toll Free US: 1 866-77 VISIT (1 866 778-4748)
In the UK: 02071 009289
JEAndrew@ScooterVacations.com
###