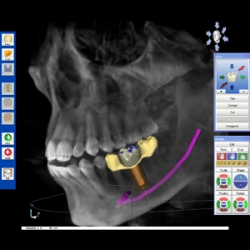 Columbus, OH, July 25, 2008 --(
PR.com
)-- Due to the accelerated growth of dental 3D imaging in the Ohio Valley region, on September 5th, 2008, the first comprehensive, regional summit for 3D imaging will be held in Columbus, Ohio. Eight renowned speakers will discuss how 3D imaging has impacted the level of care they provide to their patients. Topics covered will include implantology, oral surgery, periodontics, newfound pathology, TMJ analysis, 3D billing information, and more. The day will conclude with a round table discussion followed by a live surgical case and immediate restoration.
This event offers dental professionals an opportunity to learn about 3D imaging, the latest diagnostic and treatment planning technology for dentistry. Choosing whether 3D imaging is right for a dental practice can be difficult, and many products are now available. The Ohio 3D Summit will offer dentists the possibility to learn from their peers in an educational environment.
Attendance at the Ohio 3D Summit must be confirmed in advance. The cost is $95 and attendees will receive 7 hours of Continuing Education credit. To register, please call Bev Reeder from Patterson Dental at 614-791-9141. Registration rates are higher than expected, and space is limited. Interested dental professionals should secure their seat for the summit immediately.
The primary sponsors of this event are Sirona Dental Systems and Patterson Dental. Both groups are heavily committed to the 3D imaging market for dentistry and are proud to be part of this event. For more information, please visit http://www.ohio3dsummit.com
###