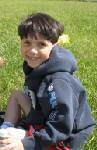 Westminster, MD, July 23, 2008 --(
PR.com
)-- In most people's lives there are a few defining moments which they will never forget. One such moment came for Brian when the phone rang early in his office the morning of October 28, 2005. Brian answered the call and immediately knew there was something seriously wrong at home. His wife was crying hysterically and from that moment on, their lives would never be the same.
Earlier that fall, their son Adam began exhibiting the classic symptoms of Type 1 ("Juvenile") Diabetes. He was constantly thirsty and had to urinate more than usual. He was often tired and very moody. Brian kept saying there's something wrong with him. His wife Lynn suspected something too but did not know what. They were particularly alarmed when they realized that their formerly normal, healthy 3 year old was losing weight.
In a way it was good that Brian's doctor had diagnosed him months before as being pre-diabetic. Although not consistent by any means, he had a glucose test kit at home which he was supposed to be monitoring the glucose levels of his blood.
The morning Brian received the call at his office was the time their worst fears were realized. Lynn tested their son Adam while he was sleeping. His blood glucose registered a number way to high to be "normal". An early morning call to the pediatricians' office, a quick visit and all of sudden they found their selves in the Pediatric Intensive Care Unit of Sinai Hospital in Baltimore, MD. It was an unforgettable nightmare of a weekend. As they watched their sick little boy turned lethargic and then screaming with the IVs, Lynn and Brian had to absorb a crash course in diabetes care which consisted of 6-8 finger sticks a day for glucose monitoring, 4-5 injections of insulin a day, words like hyperglycemic, hypoglycemic, ketoacidosis, what to do in an emergency, etc. It was chaotic and emotionally draining. They knew that their world and his had been turned upside down, never to be the same.
Adam has type 1 diabetes. For about 2 1/2 yrs Brian struggled with how they could help him. Adam would often ask him out of his own frustrations and pain, "Daddy, when are they going to find a cure for diabetes"? His dad had no good answers for him.
Brian has worked for the Federal government for almost 17 years and attempted other ventures such as real estate investing to try and get wealthy so they could live a better life. Brian figured at that time that any excess money he could make, he would give towards diabetes research or something to help his little guy and others in Adam's situation. As most people do when they are struggling, he prayed for success. Real success never came.
After a series of setbacks and failures, out of frustration of not feeling successful or fulfilled, he threw up his hands and asked God what it was he wanted him to do? It was an incredible moment that he will never forget. It was as real a moment as anyone could get talking to God because it became very clear what he was intended to do with the rest of his life. Truthfully and meaning no disrespect, he expected burning bushes and a loud voice but instead it came as a vision in his head; a very clear vision.
Brian's dreams of riches were over. All of a sudden he began, almost out of instinct to construct ideas and plans on how he could raise money and awareness for diabetes research. He came up with the concept of providing entertainment to audiences to raise money for diabetes research. Obviously some of his own health problems stem from not getting enough exercise so it was only natural to resist wanting to create another organization whose main fundraising efforts came from walk-a-thons and the typical fundraising methods. Brian wanted to create something special that people perceived as fun and exciting. A famous quote Brian loves from the late, great comedian Milton Berle is, "If opportunity doesn't knock, build a door". Brian built the door and is hoping people will embrace this concept and support their efforts.
The premise was simple; provide quality entertainment products at a very fair price and in return the public will give their financial support to AdamsCure.Org and the money will help find a cure. What does entertainment consist of? Concerts, movies, comedy acts for the entire family such as their favorite comedian, Brian Regan and others whose entire act isn't based around foul language. It's talent shows, plays, etc. Brian quickly had the legal papers drawn up. He created a non-profit foundation called appropriately, "AdamsCure". Although it bears his name, it is about anyone who is suffering from diabetes. The money raised goes towards research to find a cure and to help children live their daily lives with this disease until the cure is available for all.
This story is real. Brian and Lynn's son's illness is very real. A cure right now is not but could be just around the corner. To be proactive and doing something for the good of their son and others like him is very fulfilling to them. The Venn's have personally paid many thousands of dollars of their own money to make this happen. Some people would call it a gamble while others might call it stupid. The Venn's believe that by doing so, they've planted the seeds of a whole lot of goodness to be harvested in the very near future. The Venn's also feel that they are doing all they can to help others and that is much more satisfying than being self-serving.
For more information on their organization and their concert series, please visit www.adamscure.org. Brian spent years trying to find riches and wealth, but says if he were to die tomorrow, he would die a much richer man because he knows he tried to help his son and others like him.
###