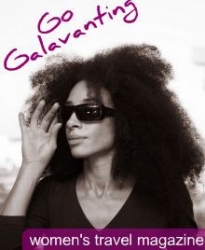 Chicago, IL, July 23, 2008 --(
PR.com
)-- Galavanting, a new online women's travel magazine, officially launched July 15th to thousands of readers in its first week.
Editors-in-chief Kim Mance and Katy Quissell recruited a diverse and impressive group of women writers to tell their stories of adventures from around the globe for the inaugural online issue.
Mance says, "We take women as seriously as women take their travel adventures. We provide lighthearted, funny essays and tips, but you'll find no fluff within Galavanting's content. We're smashing the stereotypes that surround women travelers—and women are flocking to it. It's a lot of fun."
July's travel feature essays and entries on the worldwide blog give perspectives from women on topics from apartment-swapping to staying safe while traveling alone.
Quissell, who uses her master's in public health from Columbia University to pen travel tips on protecting one's health, says, "We want to empower women to discover themselves and far off places, while creating a trusted community atmosphere."
Galavanting also works to connect female travelers to the communities they visit and profiles women-owned businesses in popular travel destinations. Its launch issue features Valerie's Chicago Chocolate Tours, Kimberley's Parisian Events, and Anitra's Lova Lava Land Eco Resort in Hawaii.
Mance and Quissell will embark on an edgy, adventurous trip next month while shooting the first Galavanting destination web-video in Costa Rica. They will also highlight local women-owned businesses, and sustainable tourism opportunities for women on a budget.
Visit:
http://www.gogalavanting.com
###