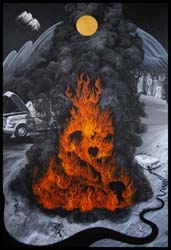 New York, NY, August 04, 2008 --(
PR.com
)-- Emerging artist David Macaluso's work navigates the conflicting parts of a global engine. On the one side is the old guard of institutional oil; on the other are emerging alternative energy technologies. In Used Motor Oil works on paper, or his new solar-minded series of paintings, Mr. Macaluso's artwork embodies the fundamental tensions and divisions of our time-- and transcends them.
In 2005, David Macaluso took inspiration directly from the internal combustion engine by painting with its dirty brown discharge: used motor oil. Mr. Macaluso's work with used motor oil is elegant and compelling, abstract or semi-abstract, and juxtaposes themes of order and chaos, of mind and matter. Although his used motor oil art is an act of recycling-- this is not just conscientious environmentalism for Mr. Macaluso:
"I recall my desire to create an organic art, born directly from this period in history; and one day I had the idea to paint with motor oil. It symbolized how oil affects every aspect of life today. I was also fascinated by the idea of oil as a substance that's extracted from the depths of the earth after having developed organically over hundreds of millions of years; then to circulate over our roadways and through the engines that support people's lives. And perhaps threatens them."
David Macaluso's artwork (http://www.davidmacaluso.com) forms a bridge between the world that was and is, to the world that can be. If his work with used motor oil alludes to a murky present, his recent series of acrylic paintings sees a horizon illuminated by new energy modes. But rather than advocate for change, Mr. Macaluso's work reflects the change that is occurring. By looking through a prism of individual identity and behavior, his latest paintings highlight the link between global energy developments and collective human awareness.
David Macaluso is an artist who speaks in the visual language of myth and metaphor. His latest work, entitled Mindsnapper Series, merges solar iconography with pictography and historical references, into an artistic vision at its prime.
To view the art of David Macaluso: http://www.davidmacaluso.com
About the Artist:
David Macaluso is the recipient of the Cultural Arts Council Award of Bellmore-Merrick. A precocious artistic talent at an early age, Mr. Macaluso is largely self-taught. His higher education includes Parsons School of Design, New School University, and Hunter College, all in New York. Currently he lives and paints full-time in Brooklyn, NY; he selectively accepts commissions. His current series of used motor oil mixed-media works is expected for release in mid-August 2008. His works are in numerous private collections around the world.
Contact:
David Macaluso
Tel: 516-650-5167
david.macaluso@gmail.com
###