Flitz International to Donate $2.00 from Each Item Sold to Children's Hospital of Wisconsin
Flitz International announced today that $2 from each of its premium polishing products sold at the 2008 Wisconsin State Fair will benefit Children's Hospital of Wisconsin. "It is always a good thing when corporations give back to society," said Ulrich Jentzsch, president of Flitz International. "Even better, when they give back to their local community."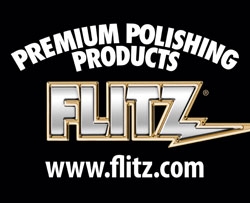 Waterford, WI, August 02, 2008 --(
PR.com
)-- Flitz International announced today that $2 from each of its premium polishing products sold at the 2008 Wisconsin State Fair will benefit Children's Hospital of Wisconsin.
"It is always a good thing when corporations give back to society," said Ulrich Jentzsch, president of Flitz International. "Even better, when they give back to their local community."
Angelica Hensley, chief operations officer for Flitz, added "Flitz chose Children's Hospital of Wisconsin as recipient of this donation specifically because "its efforts can have such an immediate, positive impact on the lives of its young patients. We are proud to assist Children's Hospital in brightening the days of those children and their families."
Visit Flitz at the Wisconsin State Fair from July 31 to Aug. 10.
Fair hours are:
8 a.m. to 11 p.m. Sunday - Thursday.
8 a.m. to 12 a.m. Friday and Saturday.
8 a.m. to 9 p.m. Sunday, Aug. 10.
Visit Flitz online at www.flitz.com.
For more information on the Wisconsin State Fair, visit www.wistatefair.com
###
Flitz International is a manufacturer of premium polishing products and has headquarters in Waterford, Wis. The company has been a leader in the manufacture of premium polishing products for 30 years. For more information, contact Peter Gorman at (262) 534-5898 or e-mail him at peterg@flitz.com
Children's Hospital of Wisconsin, founded in 1894, is recognized as one of the leading pediatric health care centers in the United States. It is included on Child magazine's 10 Best Children's Hospitals list and is named by U.S.News & World Report as one of America's Best Children's Hospitals. Children's Hospital of Wisconsin is a Level I Pediatric Trauma Center verified by the American College of Surgeons. The hospital has been designated a Magnet hospital by the American Nurses Credentialing Center, a national honor that recognizes nursing excellence. Because more children and families count on Children's Hospital each year, the hospital will open a 12-story, 425,000-square-foot expansion in spring 2009. Children's Hospital is the flagship member of Children's Hospital and Health System. The health system is able to fulfill its mission thanks in part to philanthropic gifts and support from members of the community. Private, independent and not-for-profit, the hospital serves children and families from Wisconsin, the Upper Peninsula of Michigan, northern Illinois and beyond. For more information, visit the Web site at www.chw.org.
Contact
Flitz International, Ltd.
Peter Gorman
262-534-5898
www.flitz.com

Contact