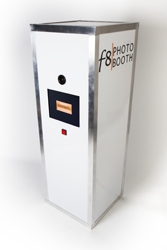 Raleigh, NC, August 05, 2008 --(
PR.com
)-- The Photo booth originally was invented by Mathew Stiffens in 1889 and yet was not made into the iconic box of flashes until 1925 when Anatol Josepho popularized the square box with a curtain and the glorious strip print out.
Fast forward to today and most machines still resemble the heavy box with a curtain and that is where the f8 PHOTOBOOTH demonstrates its point of difference. The traditional photo booth only allowed only up to 3 occupants at a time.
"We wanted something totally progressive," said Kaz. "We wanted a booth that allowed more than 3 subjects in a frame and one that aesthetically represented our style of work. The addition of a wide angle lens allows our design to accommodate more people per frame."
The f8 PHOTOBOOTH measures 2'x2'x6' tall with polished aluminum edging and has an acrylic white skin that glows and features a 15" monitor that allows the user to see a live view image of themselves as they enter in front of the booth. Once the user is ready, a push to the red button activates the software to take one of four images to be captured and to be printed in classic strip style with a logo or the more popular 4x6 with a logo. Onlookers are allowed to view the last session on the monitor to inspire their "session." and as the night progresses, one-outdoing the last becomes a trend.
"It is interesting to watch the crowd's reaction" Galati admitted. "Some of them manage to actually come up with some creative stories with just four images."
To top off the print out, the f8 PHOTOBOOTH has the ability to automatically FTP the images via an available wireless signal to an online gallery for clients to view and for an additional fee, the f8 PHOTOBOOTH will display the desired images to an available wall for a continuous slide show of the images for a really dramatic effect. "It allows people to not crowd around the booth," Kaz said. "People from across the room can see what is going on at the booth."
The f8 PHOTOBOOTH has been Very popular with the Raleigh event crowd. So much so that Cara and Jonathan have already started on the second booth.
###