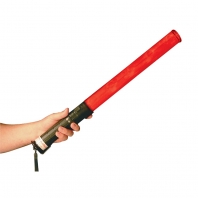 Lumastrobe Warning Lights has been in business for 20 years specializing in safety warning lights that have a wide array of uses in a multitude of industries. From flightlines to construction zones, school crossings, maintenance and patrol vehicles, from the marina to aircraft landing zones, Lumastrobe has emergency and safety lighting that is top quality at economical pricing. We serve all industries with durable, tried and proven products that meet rigid quality control standards. Many of our products have industry leading specifications, such as our BT-10-R baton that acheives over 1400 flashing hours on a single set of D-Cell batteries or the most versatile beacon in the world, our LX-18 that achieves a remarkable 600 flashing hours on a set of D-Cell batteries.

With technicians and engineers on staff, and customer service trained professionals, Lumastrobe sets the precedent for customer service and quality safety lighting products year after year. With an ever increasing product line, and with custom orders welcomed, Lumastrobe is growing at a sizable rate. Visit us at www.lumastrobe.com for the latest line of products we carry. Reach out to us at 800 775 5862 Monday through Friday 9-5 EST.
Status

Private Company

Founded

1997

# Employees

30
Company History
Lumastrobe Warning Lights was founded in 1997. Its goal was to provide high quality safety warning lights and top notch customer service. For over 20 years Lumastrobe has met its goal, excelling in providing not only standard safety warning lights for common industrial applications, but also niche safety products applicable to everyone from construction companies and condo associations to private home owners and independent snow plowers. Lumastrobe has lead the way in product development and product innovation, consistently increasing its product line by adding high quality, unique strobe lights to what has become a wide range of applications. With headquarters in Midland Park, New Jersey Lumastrobe provides its quality safety lights and products across the US, Canada and all over the world. The Lumastrobe name has become synonymous with top quality and unbeatable customer service.
Now over 20 years later, Lumastrobe is continuing its tradition of excellence and innovation, having included, among other products, a full rodent deterrent strobe line, a strong collection of temperature controlled lights, a camping line and an unbeatable collection of solar lights that simply can't be found elsewhere. Lumastrobe.com is now your one stop shop for safety warning lights. The future is bright, with new products being added routinely. Quality is never compromised and customer support is always available by highly trained sales professionals, aiming to make the buyers experience as easy and effortless as possible.