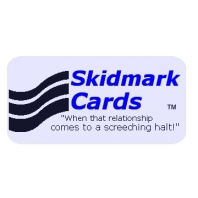 Skidmark Cards

Skidmark Cards is a new greeting card company dedicated to help raise awareness and funds for victims of domestic abuse. Our mission is two-fold. First, we produce heart-felt make-up cards that help to say "I'm sorry." Second, we design cards that "tastefully express and dignify the end of a relationship." These break-up cards are written an a non-angry, non-bitter way. They are designed for the wise person who knows that bitterness and anger eats you alive from the inside. The more intellegent person takes the high road and moves on.

We are committed to donating a full 50% of our profits to help fund shelters for victims of domestic abuse. From our humble start in Rhode Island, we hope to branch out and begin supporting women's shelters across New England and then nationally. We feel relationship cards are a natural fit to help fund women's shelters. People may not want to face their significant other when announcing intent to separate or end a relationship.

If you have hit a rough spot in your relationship, or know someone who has, keep us in mind, please help spread the word, something good can come from something not so good. Take the high road and send a Skidmark make-up or break-up card today!
Status

Private Company