Horseman Magazine Makes Online Debut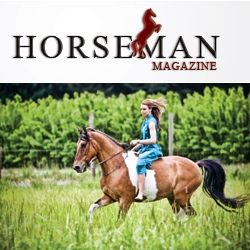 Marriottsville, MD, August 20, 2008 --(
PR.com
)-- In August 2008, Horseman Magazine, a web exclusive, was founded to provide a place for those who ride, care for, or just otherwise love horses to come together and find/share useful information. Since Horseman is a webzine only, readers must access it via
www.horsemanmagazine.com
.
A range of content is offered at Horseman, beginning at the homepage. A scrolling display of featured articles, stories, and other recent content greets the reader. The site's look and feel is clean, simple, and to the point, and navigation to other sections of the webzine is provided through links at the top of the page.
A click on "Horseman Articles" links the user to content on subjects like being a better horseman, training techniques, and interviews with masters of the art.
A page aptly titled "Horse Breeds" is dedicated to providing insight on various breeds and their unique characteristics. Photographs of most breeds are included.
For some lighter reading, a selection of short stories about horses and their human companions is also available for readers' enjoyment.
Another division of the webzine, "Horse Wise," serves to inform readers about the more intimate side of the animals they love.
Horseman Magazine is a new offering, having just come online in August 2008. While this webzine is relatively new, one of the benefits of being web based is that updates can, and are, made frequently. Readers can expect to see new content generated on a weekly basis; while an RSS feed is available to alert subscribers with the latest headlines from Horseman. Additionally, the founders at Horseman demonstrate a keen awareness of modern social-networking technology. Users of sites such as Facebook can easily link Horseman content to their personal profiles.
As the webzine grows, information will be continuously tagged and archived. This allows for fast indexing and searching-putting the information horse lovers need most at their fingertips precisely when they need it.
Articles, short stories, and other content are produced by a core staff of writers who are, by nature, horse enthusiasts themselves. Short bios of each writer are available on the "Writers" page. While these fine folks do a superb job of keeping the site populated with interesting and dynamic horse-related content, Horseman is always interested in additional writing talent. Anyone who feels that they have a horse story to share, useful information for an article, training tips, or anything else involving horses may feel free to submit their ideas via the website's "Contact Us" form.
Horseman Magazine doesn't seek to replace riders' current subscriptions to print publications. Rather, it seeks to complement the horse lover's library of information. Horseman provides a two-way communication environment wherein equestrian enthusiasts can learn more about caring for and nurturing the animals they love, while also sharing their unique horsemanship experiences and offerings with the rest of the rider community.
###
Contact
Horseman Magazine
Robert Leverton
443-538-6997
www.horsemanmagazine.com

Contact