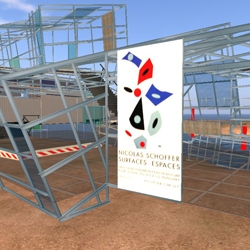 Milton Keynes, United Kingdom, September 13, 2008 --(
PR.com
)-- An artist of Hungarian origin, Nicolas Schöffer (1912-1992) is seen as the father of Cybernetic Art, a reputation built on one of his most famous works 'Interactivity' in 1955. He followed this with a pioneering work in Video Art, with his groundbreaking 1961 broadcast on French Television. As technology moved forward at an increasing pace, he maintained his reputation and became one of the most noted computer artists, using a early Macintosh computer, towards the end of his life.
Reconciling art, science and technology, he won the Grand Leonardo Price of the ISAST (International Society for Art, Science and Technology), in 1986. His spatio-lumino chronodynamic and cybernetic experiments gave birth to large scale constructions such as The Cybernetic Tower of Liege (Belgium) 56m. high, 1961 - The Cybernetic Tower of Kalocsa (Hungary) 24m. high, 1982 - The Cybernetic Tower of Lyon (France) 30m. high, 1988 - The Project of the T.L.C. (Cybernetic Light Tower) for Paris Defense 324m. high, 1963 and his Prisms (projects of an Oeucumenic Cathedral for the XXIe century). The scale and brilliance of these works brought him fame in the wider world.
Says Agota Nagy, trustee of the museum and gallery, "I am so excited to be presenting Schöffer, who is such an important figure in the history of technological art, in what is an incredible new virtual gallery environment. The juxtaposition of the art and the setting is both beautiful and thrilling. The perception of movement is palpable, the ability to relate to the art with others, as a social experience, invigorating."
The Nagy Gyula Galeria sits within the depo park in Second Life, home to the BBC Film Network Cinema, Haydn Shaughnessy's Ten Cubed gallery and the Herve Foundation.
The exhibition will open on Saturday 13th September at 13:00 PDT, 21:00 BST.
The SLURL to the exhibition is: http://slurl.com/secondlife/depo%2011/40/133/25
About depo consulting
depo consulting, the virtual and new media brand experience specialist, delivers a range of strategic and tactical solutions for a range of clients including professional services firms, advertisers, media and creative agencies.
Clients include:
Field Fisher Waterhouse, Market Truths, Codexx, Astralcom, BBC Film Network, OracleContractors.com, Informa
For further information, please contact:
Peter Dunkley
T: +44 (0)7713 795563
E: peterdunkley@depoconsulting.com
###