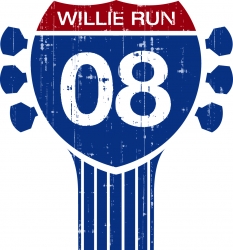 Atlanta, GA, September 25, 2008 --(
PR.com
)-- Fitzgerald+CO advertising today announced that copywriters Nik Bristow and Brian Pierce have arrived in Santa Monica, completing the first-ever non-stop, cross-country trek powered entirely by Willie Nelson's own BioWillie® biodiesel.
Bristow and Pierce drove along the original the "Cannonball Run" route, beginning in New York City Monday night at 10 p.m. EST and arriving in Santa Monica this morning at 9:40 a.m. PST. The official time of the 2,903.3-mile trip clocked in at 38 hours, 37 minutes, 41.1 seconds – a little longer than the original "Cannonball Run" record in both time and distance, but the Willie run team used less than half the gallons of gas.
"We did what we set out to do," said Bristow, "which was prove the efficiency and effectiveness of biodiesel. And we've helped get Americans talking about biodiesel as a viable fuel alternative, which is more important than ever."
The duo carried jugs of BioWillie® biodiesel fuel with them and refilled the tank of their 2007 diesel-engine Volkswagen Jetta from inside the car. They paused to pick up additional fuel in Flagstaff, AZ, but the car's engine never stopped. During a regular driver change, they were met by a new friend who was following them on WillieRun.com, and he gave the team additional jugs of biodiesel to make sure they could complete the trip.
"The biodiesel community is amazing. When we found out last night we needed additional fuel, the folks at Fitzgerald+CO connected via the Web with biodiesel enthusiast Dave LaFaive of D.A.V.E. Transport, and a guy who didn't even know us came out in the middle of the night to make sure we had the fuel we needed to complete our journey. That just shows how passionate biodiesel advocates are," Bristow continued.
Bristow and Pierce conceived the idea of "Willie Run" in 2007 while working their "day jobs" as copywriters at Fitzgerald+CO. For several years, the duo and their creative team colleagues had been doing unofficial pro bono projects for the brand and, ultimately, won the support of Willie Nelson himself for this groundbreaking effort. The project captured the attention of the entire agency, resulting in an integrated marketing strategy, including tactics such as live streaming on UStream.com, YouTube videos, an interactive Web site, a multi-tiered publicity campaign, events and more.
"We've already decided we'll be back next year for Willie Run '09," said Pierce. "The search for feasible fuel solutions isn't going away anytime soon, so neither are we. Now that we've set the record for being the first-ever non-stop, cross-country trip fueled by biodiesel, we have to set our sights on breaking it next year. And we have already gotten interest from sponsors and participants for Willie Run '09."
The "Willie Run" is sponsored by Power Service Products, which manufactures a complete line of diesel fuel additives. Diesel is different – and when it comes to diesel, the pennies spent on additive returns more performance for the dollar.
For more information about the run, please visit www.willierun.com.
###