Landmark Financial Corporation Boasts Equipment Financing Still Strong
Although traditional banks are shying away from industrial equipment financing, Landmark Financial Corporation is still able to provide equipment financing for new small and large companies. Because Landmark is not a bank, they are not limited by traditional lending practices.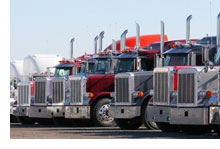 Greenwood Village, CO, September 26, 2008 --(
PR.com
)-- While the media is full of doom and gloom reports about the current economy, Landmark Financial Corporation announces that construction
equipment leasing
and financing remains stronger then would be expected given current economic news.
"Those expecting to see evidence of an overall slowdown in commercial equipment finance activity - or a significant decline in portfolio performance - as a result of the mortgage crisis, rising energy and food prices or a general economic slowdown may be surprised by a report by the Equipment Leasing and Finance Association. Economic activity for the $650 billion equipment finance sector, showed overall new business volume for May increased 6.5% when compared to the same period in 2007, proof that our industry is strong," said William Verhelle (ELFA Press Release 06/25/08)
Banks are becoming less willing to offer financing for small and newly established businesses. There are many government lending programs small businesses can turn to when looking for a loan if a traditional bank is unwilling to write the loan. However, these programs aren't always a good fit for small and new businesses that need the cash, because of the restrictions in place by the government. The criteria for such programs are also becoming more stringent in many cases requiring direct liens on the business owners' personal assets.
"We have many new or used equipment finance options for businesses of all sizes. Because we're a direct lender, we have the ability to be more flexible and creative when it comes to business
equipment financing
. We're in the unique position of having available capital that allows us to manage our portfolio with an eye towards identifying solid opportunities in an economic environment that has finance companies pulling back," said Peter Sutherland, President of Landmark Financial Corporation.
In addition to financing business owners, Landmark also has an appetite for supporting other lenders in purchasing portfolio and is also available to banks wishing to provide their own customers with financing options. This way if a bank is unable to offer a loan to a long-term customer, it can refer the customer to Landmark instead of sending them to a competitor.
"Loans that banks would have approved a year ago don't make the grade today. The credit window is not likely to open up further anytime soon. The Federal Reserve recently reported that the share of banks tightening loan availability to small businesses surged to a record high of 65.3% in the third quarter, up from 7.7% a year ago, according to its monthly survey of senior loan officers. We're striving to make our equipment financing programs available to credit worthy businesses while maintaining the flexibility and creativity often missing from other large institutional lenders in these difficult economic times," said Sutherland.
Landmark Financial Corporation offers all types of
construction equipment financing
and leasing. Financial help is available for restaurants, construction companies, transportation companies and many others. Because Landmark focuses solely on equipment financing, they are capable of financing almost any type of business equipment.
About Landmark Financial Corporation: Landmark Financial Corporation offers a full service approach to equipment financing. As a direct underwriter, Landmark Financial eliminates the middleman, to save clients money and provide a more seamless experience. The company offers financing for a wide variety of equipment from e-commerce systems to furniture, machine tools to fixtures. Landmark is still there to be your capital finance partner.
###
Contact
Landmark Financial Corporation
Tom Brems
720-214-6866
www.lfcinc.com

Contact