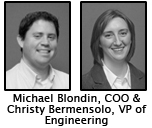 Lacey, WA, January 07, 2009 --(
PR.com
)-- Engineered Software, Inc. has enjoyed steady growth for the last ten years with marked growth in the last two years, increasing staff by nearly 40% since January 2008. Engineered Software has taken another prodigious leap forward by appointing new leadership and naming Michael Blondin as the new chief operating officer, and Christy Bermensolo as the new vice president of engineering. Former Vice President of Engineering, Ray Hardee, P.E., will now be operating solely as the chief executive officer for Engineered Software. Both moves are effective immediately.
"Engineered Software has been extremely successful with the amount of growth we have achieved in the last couple of years, no doubt both Michael and Christy have contributed significantly to that success," said Ray Hardee, CEO of Engineered Software, Inc. "Both Michael and Christy are strong leaders and knowledgeable in their areas of expertise, I am excited to see what great contributions to the future of ESI will be made by both in their new leadership positions."
In the his new assignment, Blondin will focus on expanding Engineered Software's business by developing new service and product offerings, new market development, and organizational refocusing. He will also be responsible for the Company's sales and marketing management direction. Blondin brings more than 10 years of business and management experience to his new position.
Taking over as the new vice president of engineering, Christy Bermensolo will be leading the growing team of engineers on staff at Engineered Software, Inc. Bermensolo brings more than 10 years of engineering experience, with more than two years within the Engineered Software engineering department. Her plans for the future of the engineering department at Engineered Software include creating new services that support the company's continued growth.
"We have been extremely fortunate to have attracted such loyal and talented professionals to Engineered Software," said Carolyn Popp, President, and Chief Technical Officer at Engineered Software, Inc. "Michael's talent in business organization and management will provide a solid background for strategic marketing growth, while Christy's major strength lies in her technical project management skills, and encouraging stronger employee development and communication. I am quite pleased with the direction of our future at ESI," Popp finished.
About Michael Blondin
Michael Blondin originally joined the Engineered Software family in 2005 as Marketing Manager, with over nine years of experience in marketing and sales. Blondin holds a B.A. in Political Science from Western Washington University and a M.B.A. from the Kogod School of Business, American University in Washington, D.C. Most recently, Blondin held a senior marketing management position at the Tacoma Regional Convention and Visitors Bureau in Tacoma, WA.
Blondin draws from his experiences in sales and marketing roles at True Careers, an Internet based start-up within Sallie Mae, Inc. in Reston, VA and at Aristotle International, a political technology company in Washington, D.C. Blondin also served as a Legislative Aide to Congressman Brian Baird in Washington, D.C.
About Christy Bermensolo
Christy Bermensolo began with Engineered Software in 2006 as an Application Engineer, bringing over nine years of previous engineering experience. Bermensolo earned her B.S. in Mechanical Engineering from the University of New Mexico, in Albuquerque, New Mexico. Bermensolo is also a patent holder for the Connector for Printed Circuit Boards (#6,146,176), acquired while employed as a Senior Mechanical Engineer first in the Enterprise Server Group, then the Desktop Platforms Group and later in the User-Centered Platform Solutions Division with the Intel Corporation, in DuPont, Washington.
Bermensolo draws on her nine years of previous management and engineering experience with the Intel Corporation, and her leadership as a PSIA Level 1 Ski Instructor, earned in 2003. She has presented a variety of training courses for Engineered Software, Inc. as well as given notable presentations to the ASME Puget Sound Section.
About Engineered Software, Inc.
Founded in 1982, Engineered Software, Inc. has created products that are known worldwide for high end-user satisfaction rates. The company has two award-winning product lines – PIPE-FLO and PUMP-FLO Solutions. Recognized as the best in the industry, the programs' interface was developed and refined based on over 25 years of customer feedback. Engineered Software is also the creator of Flow of Fluids Premium software, and holds an agreement with Crane Valve North America to produce, market and sell their Technical Paper, TP410. Engineered Software, Inc. has more than 5,500 clients worldwide across a variety of industries including aerospace and defense, chemical processing, engineering design and consulting, food and beverage, oil and petrochemical, mining and metals, pharmaceutical, power generation, pulp and paper, waste water collection and treatment and education.
###