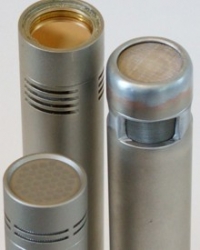 Springfield, MA, January 16, 2009 --(
PR.com
)-- Award-winning microphone engineer Michael Joly, founder of OktavaMod, has released the "Ultimate MXL 603 Mod" - a suite of micro acoustic and electronic microphone modifications that make inexpensive small diaphragm mics sound like vintage classics.
Home recordists would like to capture sound with the detail and precision Neumann mics are known to provide. But for many, building a mic locker around elite brands is cost prohibitive. "Now with the 'Ultimate MXL 603 mod' recordists can achieve smooth and detailed small diaphragm condenser sound for a fraction of the big name cost" Joly said.
Joly modifies the 603 capsule so that it more closely resembles the highly revered Neumann KM 84 design. These microphone modifications tame an overly bright sound to produce a sweet, lush top end perfect for acoustic guitar, drum overhead or piano recordings. In addition, Joly installs his field-proven "Premium Electronics" upgrade package to improve bass response, tighten midrange and reduce high end stridency.
Musicians and engineers can hear and purchase the OktavaMod "Ultimate MXL 603 modification" now for $189 at
www.OktavaModShop.com
###