Affordable Renewable Energy Solutions for Oklahoma's Businesses, Churches, Municipalities, Schools, Casinos, Etc.
Code Green Energy offers affordable wind turbines and solar panels for consumers and businesses. They provide free, no obligation energy analyses and help with financial incentive paperwork.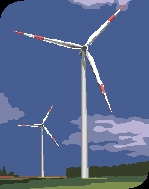 Oklahoma City, OK, January 20, 2009 --(
PR.com
)-- Global NES, Inc. has created a strategic alliance with Code Green Energy, to head up their Oklahoma renewable energy network.
This alliance completes Global NES's efforts to forge an effective geographical relationship with an organization with market strength that is positioned to provide major expansion within the state of Oklahoma. Global NES is the Nation's leader in a consultant based approach to both homeowners and small to medium size businesses in search of solutions to their energy needs.
Beth Chenoweth of Code Green Energy states, "With the national presence of Global NES and the new federal tax incentives, we are now offering our customers the most technologically advanced systems at a price that is affordable."
Global NES has a consultant based consumer approach that concentrates on education and support by providing a free Energy Analysis and assistance throughout the process including completion of forms necessary to receive tax credits, grants and other financial incentives.
Global NES's unique no cost, no obligation, Energy Analysis is available by simply contacting Code Green Energy at (405) 513-6950 or by completing the "Contact Us" page on their website www.CodeGreenEnergy.com.
###
Contact Information:
Warren Rose – Senior Partner
Global NES, Inc.
7900 East Union Avenue
Suite 1100
Denver, CO 80237
Direct Line: 303-941-7865
Fax: 303-646-9476
wrose@globalnesinc.com
www.globalnesinc.com
Contact
Code Green Energy
Beth Chenoweth
405-513-6950
www.codegreenenergy.com
Lisa Witzel, VP Marketing

Contact