Take a Vacation to Ireland This Year and Receive a Tax Deduction
If you are going to take a vacation in 2009, then why not receive a tax deduction at the same time? or the same price or even less than that of a conventional walking, cycling or just a relaxing vacation you can experience Ireland at its best and receive a tax deduction on your 2009 taxes. You can even get in a little exercise if you are so inclined.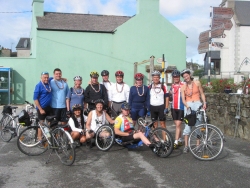 Chicago, IL, March 31, 2009 --(
PR.com
)-- Vacationers with For A Cause, Inc., have been combining good times with good causes since 2001. "Unlike for-profit companies, whose primary focus is their return on the bottom line, our focus is on the return to our beneficiaries," said Founder Rob Webber "Because of this, we can charge half of what the for-profit companies charge for the same services." Our events are geared to the participant. They get to choose whether they want to walk or ride. They choose their primary beneficiary — either the Elizabeth Glaser Pediatric AIDS Foundation or the Breast Cancer Network of Strength (formerly Y-ME Breast Cancer Organization). Participants can also choose an additional beneficiary, one that is close to their heart, making the trip even more personal. In past years participants have chosen organizations such as the National Kidney Foundation, the National Autism Foundation, the Juvenile Diabetes Foundation, and many others.
This year's event, Ireland Walk or Ride, takes place August 9 – 15, 2009. The standard registration fee for the event is $1,650.00 PP DO and covers all expenses while on the event: meals, lodging (in a 16th century castle), snacks, sport drinks, guides, bikes and support vehicles. But if someone is shy about asking family, friends and co-workers for donations then they can pay a little higher registration fee, in this case $2,650.00 and not have to do any fundraising. Participants choosing this option will receive all the same amenities as with the standard registration with the addition of a $1,000.00 tax deduction waiting for them when they return home. "We don't know of any other vacation where you can receive a tax deduction," noted board member Dennis Johnson.
As noted above, participants can choose if they want to walk or ride; this is perfect for groups or couples where some like to walk and others ride. If you do not want to walk or ride, but still want to support the cause, you can register as a crewmember. Crewmembers travel with the walkers and riders in support vehicles, ensuring everyone is on the correct routes, setting up pit stops, organizing lunches, and making sure everyone is safe. And if all you want to do is relax, take strolls along perfectly manicured lawns, explore formal gardens, and just spend the day sipping cocktails by the indoor heated pool, that's Okay too.
Riders and walkers who register using the standard registration fee are asked to raise a suggested minimum of $1,000.00 in donations; on past events participants raised an average of $2,500.00 per person. None of the donations are used to pay for event expenses, so 100% of everything raised can go to the beneficiaries.
The location for the Ireland Walk or Ride is a small town just north of Galway, along the West Coast. Everyone will stay in a 16th Century Irish Castle that has been updated with modern conveniences, including private bathrooms, and an indoor heated swimming pool, but still retains is original grandeur like a private lake, formal gardens and a chapel. There will be no sleeping in tents, no port-o-jons, and no lugging your gear; participants will stay in this amazing castle all week and make circular trips out into the countryside. Daily distances will range between 10 - 15 miles for walkers and 50 - 75 miles for riders. Each day will start with a Hearty Irish Breakfast; followed by lunch either alfresco along the route or in small Irish Pubs. Dinner which might include Irish Vegetable Soup, Garden Salad, Leg of Connemara Lamb served with fresh mint jelly, potatoes, parmesan spinach, carrots, chocolate cake, Tea and Coffee will be prepared by the castle staff with the freshest of local ingredients. The end of the day will be spent sitting next to a peat fire, sipping cordials, and sharing experiences from the road. "This is the only vacation where a group of strangers leave as life long friends," noted past participant Julie Rucinski "I think it's the common thread that we all share from the very start, wanting to make a difference in the lives of Children with AIDS or those Affected by Breast Cancer; it just brings you together from the very start." Julie has been Riding For A Cause since 2003 and this will be Julie's fifth vacation with us. Julie's Mom is a breast cancer survivor.
For more information on the Ireland Walk or Ride please visit their website at www.rfac.org
…For A Cause, Inc., is a registered 501(c)(3) nonprofit organization. Our mission is to energize and inspire people to make a difference in the lives of those affected by HIV/AIDS and breast cancer, and to assure that no one faces these battles alone.
###
Contact
For A Cause
Robert Webber
773-960-4365
www.rfac.org

Contact