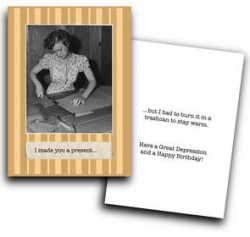 Iowa City, IA, May 12, 2009 --(
PR.com
)-- Greeting card publisher Order of St. Nick will debut its new line of Great Depression-themed birthday cards at the 2009 National Stationery Show this May 17-20. The birthday cards are the newest addition to the company's Depressing Times line of humorous greeting cards and postcards.
Depressing Times greeting cards feature public domain photos from the Great Depression paired with irreverent takes on unemployment and health insurance woes. The most popular card reads, "I made you a present… but I had to burn it in a trashcan to stay warm."
The CBS Early Show featured Depressing Times cards as one of the most prominent examples of a growing "Depression chic" trend. "Sales of just about anything related the Great Depression have been surging since Christmas," Brandweek's Robert Klara wrote in a February article.
Order of St. Nick's new Depressing Times birthday cards "are poised to draw attention and sales," according to GIFT SHOP magazine publisher Patricia Norins. "These days everyone can use a laugh."
Order of St. Nick will be exhibiting at booth 1856 at the 2009 National Stationery Show, where Owner and Creative Director Andrew Shaffer will be on hand to meet with interested retailers. The show runs May 17-20 at the Javits Center in New York City. This is Order of St. Nick's first appearance at the annual stationery tradeshow.
Twelve different Depressing Times birthday card designs will be available soon at finer gift stores everywhere. Customers may also purchase Depressing Times greeting cards directly from Order of St. Nick at www.orderofstnick.com.
About Order of St. Nick
Order of St. Nick (www.orderofstnick.com) is a greeting card publisher specializing in humorous greeting cards for every occasion, including birthdays, Christmas, Valentine's Day, and Halloween. Order of St. Nick is a privately-owned small business headquartered in Iowa City, Iowa.
###