Willow Creek Association's Leadership Summit 2009 — CCN Edition Via Satellite. Summit Faculty to Include Tony Blair and Bono.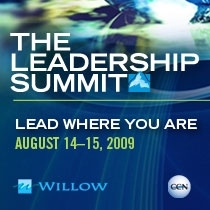 Lubbock, TX, July 28, 2009 --(
PR.com
)-- On August 14 and 15 leaders throughout North America will have an unprecedented opportunity to hear a world class line-up of global leaders at the Willow Creek Leadership Summit 2009 — via satellite on CCN.
Willow Creek Association (WCA) has partnered with Church Communication Network (CCN) to bring The Leadership Summit 2009 to Live Oak Community Church in Lubbock, Texas an effort to empower churches across the nation to improve their leadership and use their God-given gifts to impact the world.
The conference theme, "Lead Where You Are" calls for ordinary people to make an extraordinary difference in the midst of challenging times. Leaders will be encouraged to stand together in a worldwide effort to confront current crises.
"When the stakes get higher – and I think we're in the highest stake era of my lifetime – leaders either step it up or they get into an avoidance mentality and don't do the hard work of defining reality and calling others to higher levels of engagement," says Bill Hybels, Founder and Senior Pastor of Willow Creek Community Church.
The seventeen Summit faculty members represent a culturally and racially diverse group of leaders from business to ministry to politics and entertainment including: Bill Hybels, Rt Hon Tony Blair, David Gergen, Dr. Tim Keller, Harvey Carey, Gary Hamel, Carly Fiorina, Dr. Henry Cloud, Dr. David Ireland, Patrick Lencioni, Dan Heath, Chip Heath, Dave Gibbons, Bono, Andrew Rugasira, Dr. Wess Stafford, Jessica Jackley.
During his Summit 2006 interview, U2 Lead Singer and renowned activist Bono issued a convicting challenge to church leaders to mobilize against the ravages of global AIDS and poverty. Three years later, Bono will reflect on the church's inspiring response and his continuing journey as a "single issue protagonist."
In a pre-conference interview with Willow Creek, Former British Prime Minister Tony Blair urged leaders to stand true to their core beliefs even when facing unpopularity or adversity.
"The proven, comprehensive wisdom that the Summit offers to contemporary leaders is staggering," says CCN Founder and CEO, Bill Dallas. "CCN's satellite network makes it possible for these important messages to reach an even broader national audience."
Located at 10710 Frankford Ave in Lubbock, Texas, Live Oak Community Church is an interdenominational church founded in 1993 by a core group including Senior Pastor Chuck Williams. Driven by the belief that all people matter deeply to God, Live Oak is a church where no "perfect people" are allowed. For more information on Live Oak or the Leadership Summit event, visit www.live-oak.org or call 806.798.5583
Founded in 1998, CCN is the largest satellite network of churches throughout North America, providing outreach events to over 6,000 church communities. With a desire to help local churches become increasingly effective, Silicon Valley-based CCN broadcasts over 150 leadership training, educational seminars, and outreach events each year. For more information about CCN, call 800.321.6781 or visit www.ccn.tv.
###
Contact
Live Oak Community Church
Adam Morrow
806-798-5583
www.live-oak.org

Contact