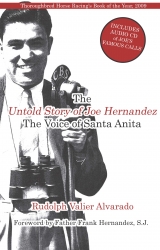 Los Angeles, CA, July 29, 2009 --(
PR.com
)-- A Special Edition of Thoroughbred horse racing's book of the year, The Untold Story of Joe Hernandez: The Voice of Santa Anita by Rudolph Alvarado, will be released on September 1. The Special Edition will be available in soft cover and hard cover and will include a foreword by Father Frank Hernandez, a Jesuit priest and Joe's son. The book's cover has been redesigned and the volume has been enlarged to 6" x 9". Some of the added features include twenty additional photographs, as well as prompts within the text that refer readers to specific race calls on the audio CD accompanying the book. Three additional calls by Hernandez have also been added to the audio CD: Stagehand's victory in the 1938 Santa Anita Handicap, the 1950 Kentucky Derby, and the Seabiscuit vs. War Admiral match race.
Alvarado's biography on Joe Hernandez was named Thoroughbred horse racing's book of the year after winning the 2009 Dr. Tony Ryan Book Award. The award is sponsored by Castleton Lyons and Thoroughbred Times. The book was also named a finalist for numerous national book awards.
The Untold Story of Joe Hernandez chronicles the life of Joe Hernandez, the legendary voice of thoroughbred horse racing. At a time when the Sport of Kings was as popular as the National Football League, Hernandez' voice was as well known as that of the late-great Howard Cosell or the recently retired John Madden. Before collapsing at the microphone in 1972, Hernandez called 15,587 consecutive races at Santa Anita Park, a string that stretched back to the track's Christmas Day opening in 1934.
When he began writing Hernandez' life story, Alvarado thought the process would be rather simple. However, what he discovered was that Hernandez had preserved his life's story in the media of his day as he wanted it remembered. With the assistance of Joe's son, Jesuit priest, Frank Hernandez, Alvarado was able to discern fact from fiction, the result of which is a compelling biography that continues to be in demand. A copy of the Special Edition can now be pre-ordered at the website accompanying the book,
www.voiceofsantaanita.com
.
###