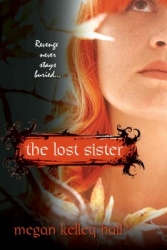 Boston, MA, August 25, 2009 --(
PR.com
)-- For a review copy of The Lost Sister please email them at kelleyandhall@comcast.net
Back to School and the Issue of Bullying
The Lost Sister by Megan Kelley Hall (Kensington, August 2009)
Almost 6,000,000 kids, nearly 30% of all children, are either bullied or are doing the bullying in this country. Now, for the first time, the American Academy of Pediatrics is stepping in with recommendations and tips to help all involved. The issue of bullying is at the heart of Megan Kelley Hall's upcoming release The Lost Sister (Kensington, August 2009).
With incidents like the alleged hazing at Miss Porter's school in New York and a recent study out of the University of Maine, stating that almost 50 percent of college students said that they experienced some form of hazing in high school, girls bullying and hazing each other is an unfortunate reality. Hall captures the horror and aftermath of such hazing rituals in her novel. Hall has spoken to teens about the issues of hazing and bullying at schools. She loves to weigh in on the topics of peer pressure, bullying and hazing that are currently happening in schools across the country.
The Lost Sister takes a chilling look at what happens when hazing pushes someone too far.
Sisters are born, not chosen…
Maddie Crane is grappling with the disappearance of Cordelia LeClaire, and trying to escape the grasp of The Sisters of Misery—an insidious clique of the school's most powerful girls, whose pranks have set off a chain of horrific events, and who have Maddie in their sights…
Beware the sister betrayed…
Now in a prestigious boarding school far away from her mysterious hometown of Hawthorne, Massachusetts, Maddie feels free from danger. But when an unmarked envelope arrives at her dorm containing a single ominous tarot card, Maddie realizes with terror that some secrets won't stay buried. Knowing she must return to Hawthorne—a town still scarred by the evil of the Salem witch trials—Maddie prepares to face the fears of her past...and the wrath of the sister she wronged.
Early praise for The Lost Sister
Compelling with its dark gothic twists and frightening intrigue, Megan Kelley Hall's The Lost Sister, combines romance, terror and family with the graceful pen of a master.
–Carrie Jones, author of NEED, GOLDEN and TATTOO
Praise for Sisters of Misery
"Hall maintains suspense until the very end... and will leave readers eager to know what happens next in her standout addition to a popular YA genre." --Publishers Weekly Review
"There's no doubt Hall knows how to write one heck of a creepy gothic novel. She pushes the limits with disturbing plot points in this scary, fast-paced story."
--Romantic Times Book Reviews
"Sisters of Misery is a story that grabs you and won't let go."
--Midwest Book Review
Jocelyn M. Kelley
Kelley & Hall Book Publicity
5 Briar Lane
Marblehead, MA 01945
T: 617.680.1976
E: jocelyn@kelleyandhall.com
www.kelleyandhall.com
###