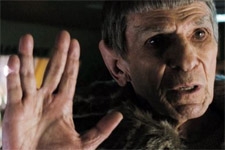 Boston, MA, September 05, 2009 --(
PR.com
)-- Bay State native, world-renowned actor and respected artist Leonard Nimoy will be joining the New England Fan Experience on Saturday, November 14, 2009 for a full day of interactive panels, photo sessions, and one-to-one time with members of the convention. Best known for his role as Commander (and Ambassador) Spock in the science fiction television and film franchise Star Trek, Mr. Nimoy grew up as the son of a Boston barber. Join the New England Fan Experience as one of the icons of American popular culture comes home for this celebration.
The New England Fan Experience is a multi-genre event which is geared towards public interest in learning more about media and popular culture. Panels, seminars, workshops and discussions offer a well rounded learning experience. United Fan Con, Inc. is a non-profit corporation that hosts this and other educational events, to further learning as an enjoyable, fun experience. The 2009 event takes place November 13 through 15 at the Courtyard by Marriott-Tremont, in the heart of Boston's theater district.
The theme for this year's convention is "Making the Movie" and will, among other things, present panels from local Screen Actor Guild members, hobbyist directors, local writers and other artists who can share their knowledge about media creation in New England.
The convention is an umbrella for five genre experiences:
The Anime Kaiju Experience brings the newest popular incarnation of animation in the United States to light with interviews with voice actors, Sonny Strait (Dragonball, Evangelion, Lupin III, Fullmetal Alchemist) and Aaron Dismuke (Alphonse Elric, Fullmetal Alchemist), discussions with manga writers and artists, including featured artist Bettina Kurkoski (My Cat Loki series, Star Trek cover), as well as interaction among fans who enjoy this Japanese import.
The Science and Technology Experience focuses this year on robotics and video game technology; and with the Gaming Experience is supported by panels and discussions with special guests Vicarious Visions, the developers of Guitar Hero.
The Pop Culture Experience welcomes actors James Hong (Big Trouble in Little China, Blade Runner) and Corin Nemec (three times Emmy Nominee actor, Parker Lewis Can't Lose), who will be presenting their own informative discussions and panels on the art and craft of acting and breaking into the field. Novice actors are encouraged to attend and get the answers to what awaits them in the dramatic arts.
The most popular will be the Science Fiction Experience, where Mr. Nimoy is presenting his session on Saturday. Other special guests of that experience are author Wen Spencer (The Ukiah Oregon series), actor-director John De Lancie (Q, Star Trek: The Next Generation), and British-trained thespian Gareth David-Lloyd (Ianto Jones, Torchwood). Each will share their special talents and experiences with the members of the convention, along with other guests who will present panels and programming on the cross-over from fiction to science that has accelerated in the first years of this new century.
The Art Show features the works of many local artists in all of the genres represented within the Experiences and includes works in pen and ink, textural fabric, painting, stained glass, and more. At press time there are still spaces available for artists. While the Experiences are open to members of all ages; a special floor of the convention hotel will be set-aside on Saturday evening for mature audience panels and interaction for members who are 18 and over. Events that appeal to the fan will include a comedic reading by Mr. De Lancie, Dinner with the Actors, a Sci-Fi Jeopardy Challenge, all day interactive appearances with the celebrities, and a centerpiece introduction to the robot Aexeous by its creator Joe Silva.
To obtain further information and purchase memberships to the New England Fan Experience visit our website at www.NEFanX.com, call (781) 986-8735, or email chairman@nefanx.com.
###