On October 1, 2009 Nazmiyal Will be Holding Their Second in a Series of Antique and Decorative Rug Auctions
For the price of a new rug, clients are able to purchase an antique rug. An antique rug is an investment; it possesses value. This value appreciates with time, providing the buyer with a piece of the utmost quality and rarity at incredibly reduced prices. An unbeatable opportunity, these prices are at their lowest, offering clients the chance to acquire antique rugs at prices comparable, if not lower than new rugs. Which begs the question: "Why buy the new when you can get the original?"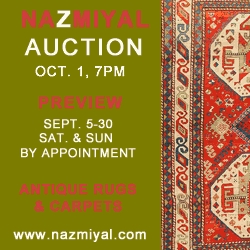 Manhattan, NY, September 04, 2009 --(
PR.com
)-- On October 1, 2009 Nazmiyal will be holding their second in a series of antique and decorative rug auctions. The catalog can be viewed online at:
www.nazmiyal.com
and the lots can be previewed and inspected in person during the entire month of September M-F from 9:00 am - 6:00 pm and on the weekends by appointments. 142 of some of the finest Antique and Decorative rugs and carpets lots will hit the auction block at drastically reduced prices - appointments are strongly suggested. The gallery is located at: 31 east 32nd street, Floor # 2, New York, NY - 10016. Tel: 212 545 8029.
For the price of a new rug, clients are able to purchase an antique rug. An antique rug is an investment; it possesses value. This value appreciates with time, providing the buyer with a piece of the utmost quality and rarity at incredibly reduced prices. An unbeatable opportunity, these prices are at their lowest, offering clients the chance to acquire antique rugs at prices comparable, if not lower than new rugs. Which begs the question: "Why buy the new when you can get the original?"
Nazmiyal has one of the most comprehensive collections of antique rugs in the industry. Unlike new rugs, antique rugs offer a person a piece of history. A new rug, however beautiful, does not offer the same allure. Over time, an antique's age becomes even more extraordinary: colors enhance, luster appears and beauty unravels. Now, for one of the first times in ages, a buyer can purchase antique rugs at prices comparable, if not lower than, new rugs and carpets.
###
Contact
J. Nazmiyal Inc.
Omri Schwartz
212-545-8029
www.nazmiyalantiquerugs.com
31 east 32nd street
floor # 2
New York, NY - 10016

Contact
Multimedia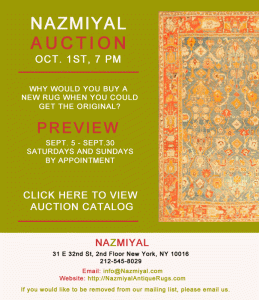 For the price of a new rug, our clients are able to purchase an antique rug. An antique rug is an investment; it possesses value. This value appreciates with time, providing the buyer with a piece of the utmost quality and rarity at incredibly reduced prices. An unbeatable opportunity, these price